This scrambled tofu recipe is made with vegan egg yolks!  Yes, vegan egg yolks.   We have good friends who have egg allergies and we are anxious to share with them that vegan egg yolks exist in the world.
I recently received a copy of The Vegg Cookbook and some samples of The Vegg vegan egg yolks to review. The Vegg is a brand new egg-free product that can be used is a wide rage of recipes. The Vegg Cookbook has over 70 Vegg recipes from all over the world.  Recipes like scrambled Vegg, Baked Frittata, Gluten-Free Lemon Bars.  There is something for everyone's taste in this cookbook.  You can order a copy at many online stores including Amazon.com.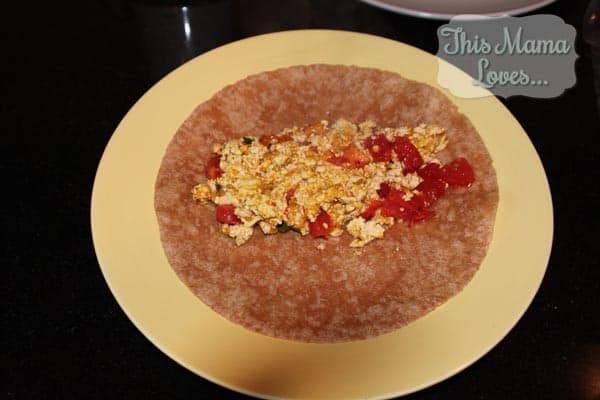 Ingredients:
1 block tofu
Veggies ( onions, peppers, spinach)
2 Tbs The Vegg plant based egg yolk replacement
Directions:
Sauté veggies
Crumble tofu in pan
Add water if too dry
Once tofu starts to brown add The Vegg
Serve with a tortilla
What is The Vegg?
The Vegg is a 100% plant-based egg yolk replacement. Using only natural ingredients, we have created a product that replicates the taste and texture of egg yolks for use in your favorite dishes. It is perfect for french toast, dipping, hollandaise and much more. Create your favorite egg-based recipes and experience the rich flavor of egg yolk without the cholesterol, allergens, and cruelty to animals.
Nutrition Information
The Vegg uses only 100% plant-based ingredients.
Cholesterol-Free
Gluten-Free
Soy-Free
Fat-Free
High in Vitamin B12
GMO Free
Certified Kosher
Ingredients: Fortified Nutritional Yeast (dry yeast, niacin pyridoxine, hydrochloride, riboflavin, thiamin hydrochloride, folic acid, b12), Sodium Alginate, Black Salt, Beta Carotene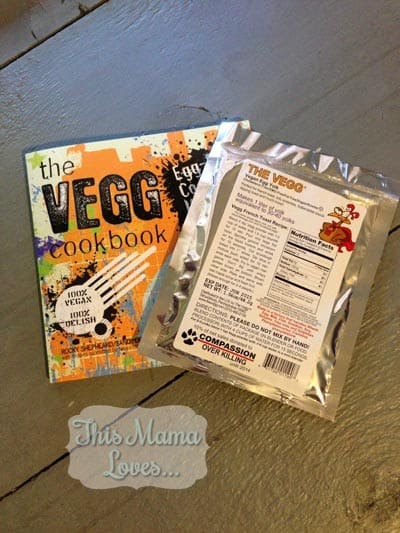 I used The Vegg Vegan Egg Yolks to make scrambled tofu.  My husband said it was the best I had ever made!!  It kept the tofu moist and gave it a nice creamy texture.  The flavors of The Vegg are subtle but quite nice.  Today we added fresh garden tomatoes but we often add sauteed spinach, onions or mushrooms.  Such a tasty and quick Saturday breakfast meal.
Scrambled Tofu Recipe with Vegan Egg Yolks
Author:
Prep time:
Cook time:
Total time:
Vegan egg yolk replacement makes scrambled eggs possible for those following Vegan diet!
Ingredients
Ingredients:
1 block tofu
Veggies ( onions, peppers, spinach)
2 Tbs The Vegg plant based egg yolk replacement
Instructions
Directions:
Sauté veggies
Crumble tofu in pan
Add water if too dry
One tofu starts to brown add The Vegg
Serve with a tortilla