Oh, 2012 is going to be a GREAT year for movies!! Check out this lineup from Disney!  Check it out below- there are a ton of movies that are on my must-see list for this year!!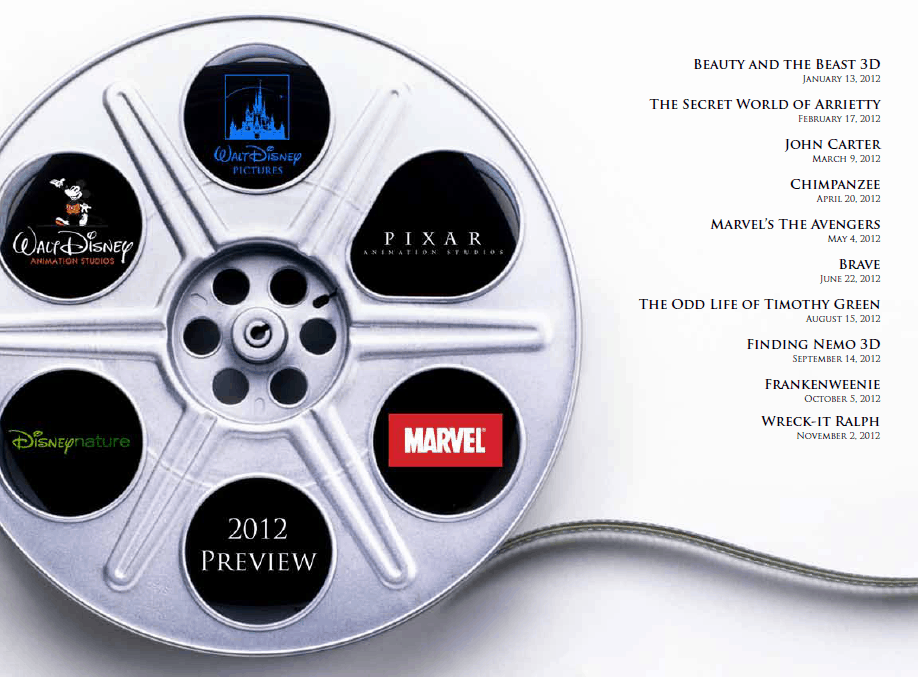 January 13: BEAUTY AND THE BEAST 3D, also in Disney Digital 3D
Walt Disney Animation Studios' magical tale "Beauty and the Beast" returns to the big screen in Disney Digital 3D™, introducing a whole new generation to the Disney classic withstunning 3D. The film captures the fantastic journey of Belle (voice of Paige O'Hara), a bright and beautiful young woman who's taken prisoner by a hideous beast (voice of RobbyBenson) in his castle. Despite her precarious situation, Belle befriends the castle's enchanted staff—a teapot, a candelabra and a mantel clock, among others—and ultimately learns to seebeneath the Beast's exterior to discover the heart and soul of a prince.
February 17: THE SECRET WORLD OF ARRIETTY
Residing quietly beneath the floorboards are little people who live undetected in a secret world to be discovered, where the smallest may stand tallest of all. From the legendary Studio Ghibli("Spirited Away," "Ponyo") comes "The Secret World of Arrietty," an animated adventure based on Mary Norton's acclaimed children's book series "The Borrowers."Arrietty (voice of Bridgit Mendler), a tiny, but tenacious 14-year-old, lives with her parents (voices of Will Arnett and Amy Poehler) in the recesses of a suburban garden home, unbeknownstto the homeowner and her housekeeper (voice of Carol Burnett). Like all little people, Arrietty (AIR-ee-ett-ee) remains hidden from view, except during occasional covert ventures beyond thefloorboards to "borrow" scrap supplies like sugar cubes from her human hosts. But when 12-year-old Shawn (voice of David Henrie), a human boy who comes to stay in the home, discovershis mysterious housemate one evening, a secret friendship blossoms. If discovered, their relationship could drive Arrietty's family from the home and straight into danger. The English languageversion of "The Secret World of Arrietty" was executive produced by Kathleen Kennedy and Frank Marshall, and directed by Gary Rydstrom. The film hits theaters Feb. 17, 2012.
March 9: JOHN CARTER, also in Disney Digital 3D and IMAX 3D
From Academy Award®–winning filmmaker Andrew Stanton comes "John Carter"—a sweeping action-adventure set on the mysterious and exotic planet of Barsoom (Mars). "John Carter" isbased on a classic novel by Edgar Rice Burroughs, whose highly imaginative adventures served as inspiration for many filmmakers, both past and present. The film tells the story of war-weary,former military captain John Carter (Taylor Kitsch), who is inexplicably transported to Mars where he becomes reluctantly embroiled in a conflict of epic proportions amongst the inhabitants ofthe planet, including Tars Tarkas (Willem Dafoe) and the captivating Princess Dejah Thoris (Lynn Collins). In a world on the brink of collapse, Carter rediscovers his humanity when he realizesthat the survival of Barsoom and its people rests in his hands.
April 20 (Earth Day): CHIMPANZEE (Disneynature)
Disneynature takes moviegoers deep into the forests of Africa with "Chimpanzee," a new True Life Adventure introducing an adorable baby chimp named Oscar and his entertaining approachto life in a remarkable story of family bonds and individual triumph. Oscar's playful curiosity and zest for discovery showcase the intelligence and ingenuity of some of the mostextraordinary personalities in the animal kingdom. Working together, Oscar's chimpanzee family—including his mom and the group's savvy leader — navigates the complex territory ofthe forest.The world is a playground for little Oscar and his fellow young chimps, who'd rather make mayhem than join their parents for an afternoon nap. But when Oscar's family is confronted by arival band of chimps, he is left to fend for himself until a surprising ally steps in and changes his life forever. Directed by Alastair Fothergill ("African Cats" and "Earth") and Mark Linfield("Earth"), "Chimpanzee" swings into theaters on Earth Day 2012.
May 4: MARVEL'S THE AVENGERS, also in 3D and IMAX 3D (Marvel Studios)
Marvel Studios presents "Marvel's The Avengers"—the Super Hero team up of a lifetime, featuring iconic Marvel Super Heroes Iron Man, The Incredible Hulk, Thor,Captain America, Hawkeye and Black Widow. When an unexpected enemy emerges that threatens global safety and security, Nick Fury, Director of the internationalpeacekeeping agency known as S.H.I.E.L.D., finds himself in need of a team to pull the world back from the brink of disaster. Spanning the globe, a daring recruitmenteffort begins.Starring Robert Downey Jr., Chris Evans, Mark Ruffalo, Chris Hemsworth, Scarlett Johansson, Jeremy Renner and Samuel L. Jackson, and directed by Joss Whedon,"Marvel's The Avengers" is based on the ever-popular Marvel comic book series "The Avengers," first published in 1963 and a comics institution ever since. Prepare yourselffor an exciting event movie, packed with action and spectacular special effects, when "Marvel's The Avengers" assemble in summer 2012.
June 22: BRAVE, also in Disney Digital 3D (Disney/Pixar)
Since ancient times, stories of epic battles and mystical legends have been passed through the generations across the rugged and mysterious Highlands of Scotland. From Disney and Pixar, a newtale joins the lore when the courageous Merida (voice of Kelly Macdonald) confronts tradition and challenges destiny to change her fate."Brave" follows the heroic journey of Merida, a skilled archer and headstrong daughter of King Fergus (voice of Billy Connolly) and Queen Elinor (voice of Emma Thompson). Determined tocarve her own path in life, Merida defies an age-old custom sacred to the unruly and uproarious lords of the land: massive Lord MacGuffin (voice of Kevin McKidd), surly Lord Macintosh (voiceof Craig Ferguson) and cantankerous Lord Dingwall (voice of Robbie Coltrane). Merida's actions inadvertently unleash chaos and fury in the kingdom, and when she turns to an eccentric Witchfor help, she is granted an ill-fated wish. The ensuing peril forces Merida to harness all of her skills and resources – including her clever and mischievous triplet brothers – to undo a beastly cursebefore it's too late, discovering the meaning of true bravery.Directed by Mark Andrews and Brenda Chapman, and produced by Katherine Sarafian, "Brave" is a grand adventure full of heart, memorable characters and signature Pixar humor that audiencesof all ages around the world have come to eagerly expect. The film takes aim at theaters on June 22, 2012, and will be presented in Disney Digital 3D™ in select theaters.
August 15: THE ODD LIFE OF TIMOTHY GREEN
Academy Award®–nominated director/writer Peter Hedges ("Dan in Real Life," What's Eating Gilbert Grape?") brings enchantment to the screen with "The Odd Life of Timothy Green," aninspiring, magical story about a happily married couple, Cindy and Jim Green (Jennifer Garner and Joel Edgerton), who can't wait to start a family but can only dream about what their childwould be like. When young Timothy (CJ Adams) shows up on their doorstep one stormy night, Cindy and Jim—and their small town of Stanleyville—learn that sometimes the unexpectedcan bring some of life's greatest gifts.
September 14: FINDING NEMO 3D (Disney/Pixar)
Academy Award®-winning Best Animated Feature "Finding Nemo" returns to the big screen for the first time ever in thrilling Disney Digital 3D™. In this stunning underwater adventure,with memorable characters, humor and heartfelt emotion, "Finding Nemo" follows the comedic and momentous journey of an overly protective clownfish named Marlin (voice by AlbertBrooks) and his son Nemo (voice by Alexander Gould)––who become separated in the Great Barrier Reef when Nemo is unexpectedly taken far from his ocean home and dumped into afish tank in a dentist's office. Buoyed by the companionship of Dory (voice by Ellen DeGeneres), a friendly-but-forgetful Pacific regal blue tang, Marlin embarks on a dangerous trek andfinds himself the unlikely hero of an epic effort to rescue his son––who hatches a few daring plans of his own to return safely home.
October 5: FRANKENWEENIE, also in Disney Digital 3D
From creative genius Tim Burton ("Alice in Wonderland," The Nightmare Before Christmas") comes "Frankenweenie," a heartwarming tale about a boy and his dog. Afterunexpectedly losing his beloved dog Sparky, young Victor harnesses the power of science to bring his best friend back to life—with just a few minor adjustments. He tries to hide hishome-sewn creation, but when Sparky gets out, Victor's fellow students, teachers and the entire town all learn that getting a new "leash on life" can be monstrous.A stop-motion animated film, "Frankenweenie" will be filmed in black and white and rendered in 3D, which will elevate the classic style to a whole new experience.
November 12: WRECK-IT RALPH, also in Disney Digital 3D (Walt Disney Animation Studios)
Walt Disney Animation Studios and Emmy®-winning director Rich Moore (TV's "The Simpsons," "Futurama") take moviegoers on a hilarious, arcade-game-hopping journey in"Wreck-It Ralph." Ralph (voice of John C. Reilly, "Talladega Nights: The Ballad of Ricky Bobby," "Step Brothers") is tired of being overshadowed by Fix-It Felix (voice of JackMcBrayer, "30 Rock"), the "good guy" star of their game who always gets to save the day. But after decades doing the same thing and seeing all the glory go to Felix, Ralph decideshe's tired of playing the role of a bad guy. He takes matters into his own massive hands and sets off on a game-hopping journey across the arcade through every generation of videogames to prove he's got what it takes to be a hero.On his quest, he meets the tough-as-nails Sergeant Calhoun (voice of Jane Lynch, TV's "Glee") from the first-person action game Hero's Duty. But it's the feisty misfit Vanellope vonSchweetz (voice of Sarah Silverman, "The Sarah Silverman Program") from the candy-coated cart racing game, Sugar Rush, whose world is threatened when Ralph accidentallyunleashes a deadly enemy that threatens the entire arcade. Will Ralph realize his dream and save the day before it's too late? "Wreck-It Ralph" crashes onto the big screen onNovember 2, 2012, in Disney Digital 3D® in select theaters.
What films have caught your attention?  I want to know!!
Info provided from Disney PR.  Opinions are my own.
0