Over President's Day weekend, the kids and I headed up to Boston for a few days of fun.  The Westin Copley Place invited us to come up and check out their Kids Club, which was having it's first vacation event.  There's nothing else to say except that we had a blast!  I was particularly excited to visit the Westin because they have a lot of green and sustainable ideas that they put into practice. Environmentally friendly bath products, vouchers given for days you refuse maid service, CFL and LED lightbulbs throughout the hotel, salt water pool, low flow shower heads and more.  They are a pet friendly hotel for dogs up to 40lbs.




We had no idea when we were on the way to the hotel that we'd be on the top floor.  We had views of most of the city!  The rooms are beautiful- and the beds make you never, ever want to leave. Ever.  If  I was the stealing type I'd have snuck the sheets and comforter into our luggage.  And the mattress.  It was most definitely a Heavenly Bed as promised.  Even with my 3 year old kicking me in the neck both nights, I slept better than I have in years.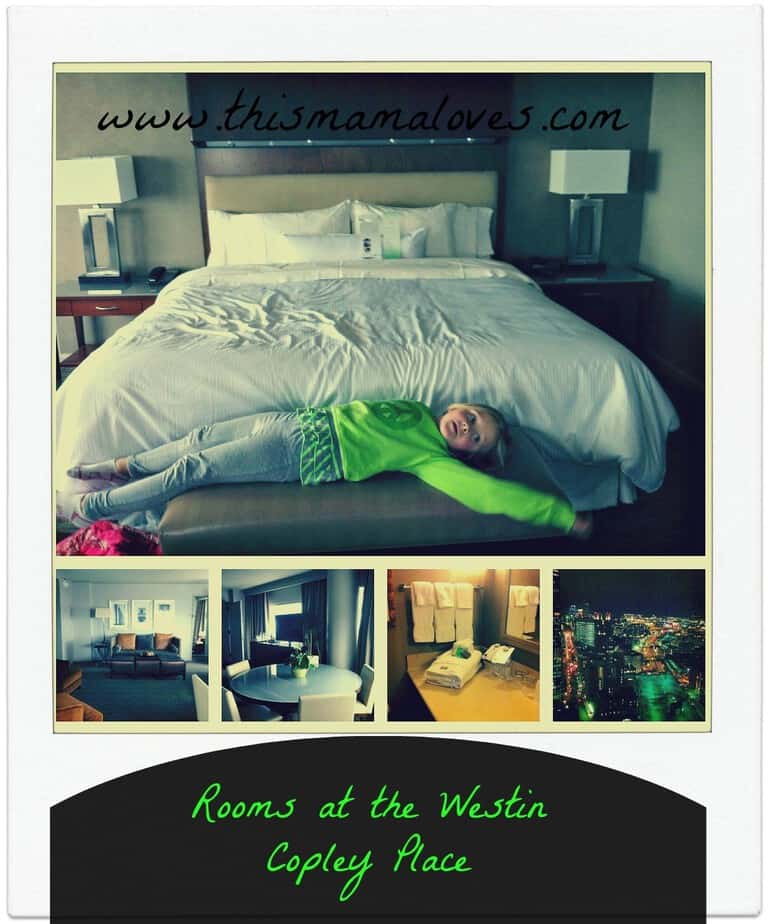 Shortly after our check in for the Kids Club Winter Vacation event, housekeeping knocked on the door and we got some cookies and milk– Westin style! The kids were amazed at this spread- I was too!  Huge warm cookies, fresh milk in real milk bottles (on ice), and an assortment of fresh fruit.  Sparkling and spring water for the adults was also included with a nice welcome note from the hotel management.  Top notch.  Also, complimentary for the Kids Club Winter Vacation program guests.  My kids haven't ever had room service before so this was a huge treat in many, many ways.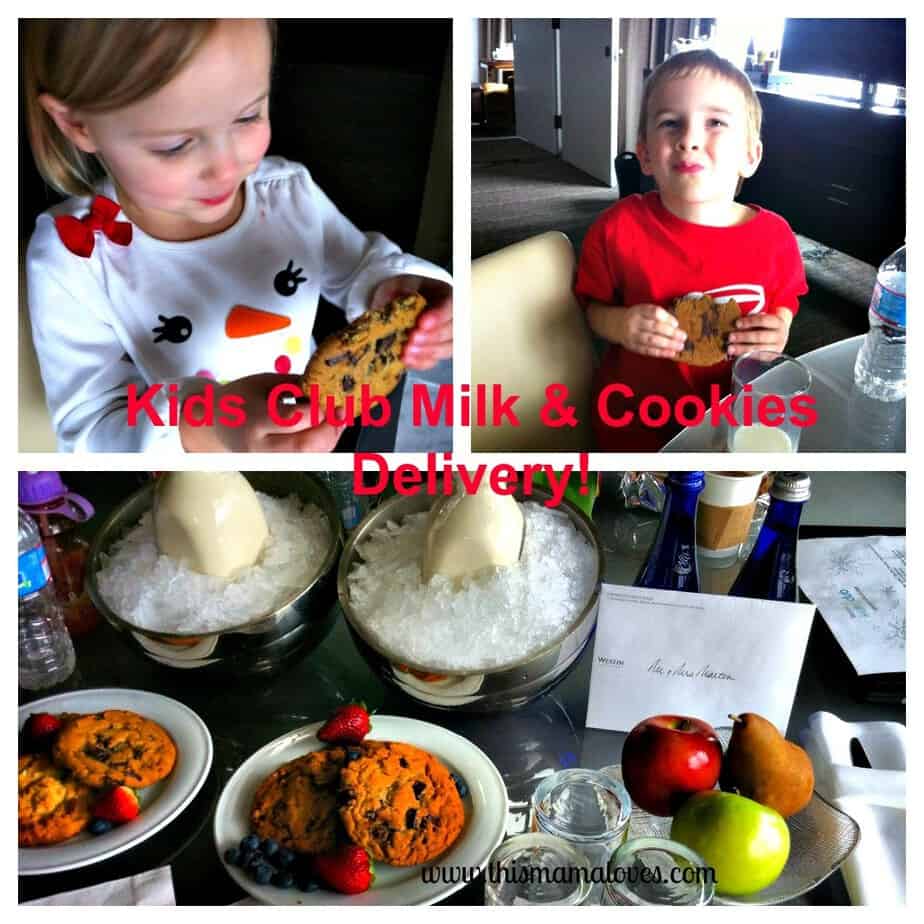 Shortly after the cookies were gobbled, we headed down to paint some ceramics on another floor, the Kids Club vacation activity for the day.  I'd assumed there would be a few pieces to choose from, but there were several, and the kids were allowed to paint more than one if they wanted!  Lots of fun, and the planning that went into this was great- normally paint your own pottery has to be kiln fired but the staff was able to find some glaze that made the pieces look fired, even though they weren't. I need to find out if I can use my mug that my son painted for me for my coffee- I'm not sure if the glaze is food grade or not.  Regardless, the kids had a blast.  The snack spread in the room that was available at all of the Kids Club Vacation events was great for both adults and kids- cold drinks, fruit, and snacks.  Excellent touches to make things easier for us.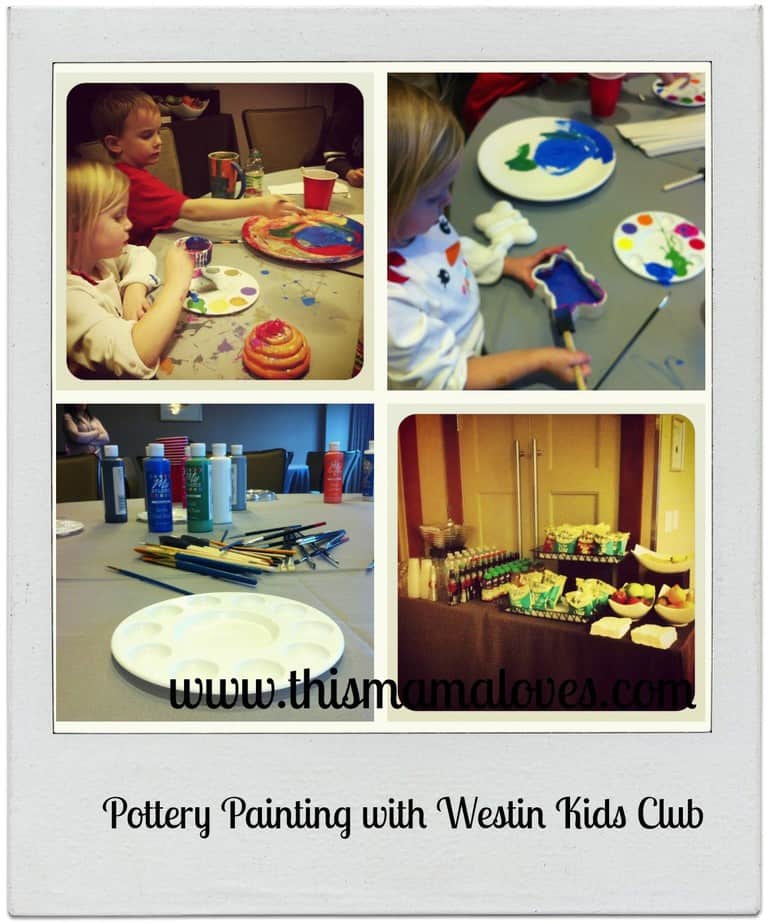 Each day of the week held a different Kids Club activity during the week.  There were family movie nights, family game nights, crafts like picture frame making, pottery painting, cookie decorating, tie dye-ing t shirts, and more.  Each activity was set up with the snack station so that parents and kids didn't have to look far for cold water, juice, soda or a light snack.  There were a lot of details that were very well thought out.  Having all of these activities planned throughout the week was really great for families who didn't want to be on the go, go go all day every day.  We actually enjoyed things so much we never left the building while we were there- we did go explore the attached mall across the Skywalk when there was blizzard-like conditions on our second morning but rushed back to enjoy the cookie decorating and tour of the kitchen with the Chefs.  That was my kids' favorite part of the trip- it was really fun to see where all of the foods and supplies are kept and made to feed so many people!

The food was fantastic everywhere we ate while at the Westin.  Anyplace who serves cookies like this must have good food, yes?  We got to eat at Turner Fisheries and oh.my.goodness. Delightful experience. I wasn't sure how well received I'd be with the three kids in tow but we were welcomed with open arms, seated in the solarium part of the restaurant so we had a view of the street- which was lots of fun for the kids to people watch.  The kids were excited they got colored pencils for coloring on their placemats instead of the normal crayons (maybe we don't get out much?) so that was big news.  The food was amazing and it was nice to be at a restaurant that believes in sustainable fishing practices– while none of us had seafood (my oldest wanted lobster and they didn't have any right then, and my dinner came with crab meat on top of the filet but I don't eat things from the water…) its always nice to know of places who are like-minded to the idea that we have to be responsible in how we interact with our world.
If you are looking for a different spin on a hotel stay, definitely check out the Westin Kids Club Vacation Packages.  You'll save a lot and get a lot of extras with your rates- at the Westin Copley Place, the rate included breakfast for kids (with adult), milk & cookies at check-in, parking ($47/day) and all of the activities and crafts.  There's a nice and not super deep heated pool that kids can enjoy from 5am to 10pm that'll keep the kids active and let them get some energy out!
For everyday with the Westin Kids Club, younger guests get coloring books and bath toys, and enjoy the story line, a bedtime story service over the phone. Westin Kids Club® is the only hotel children's program that offers special services and amenities for infants.

Other items available on request at no additional charge:
Bottle Warmers

Diapers and Wipes

Strollers

The Heavenly Crib

Bed rails
I can't wait to see the next vacation week plans that the Westin Kids Club makes- and I hope we get to be part of it! Thank you so much for having us!