Today's important message is…..
Don't Let Winter Weather Wreck Your Car
 The freezing temperatures, frigid winds and piles of ice and snow that winter brings can wreak havoc on any car. Periodic checks allow you to make the small adjustments needed to prevent major repairs (and accidents).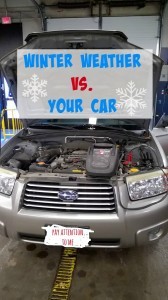 Think of it this way.  When the seasons change, we generally swap out apparel, footwear and outerwear so that it's appropriate for the temperature and climate where we are.  Vacations, as well.  We might stop using heat for the summer, and start using a/c.  Maybe we use a different filter for our home. But we do things in different ways for different temperatures, seasons and climates, and we should also all be making sure our cars get that same attention. (Please note, when I say cars, I mean automobiles of all varieties).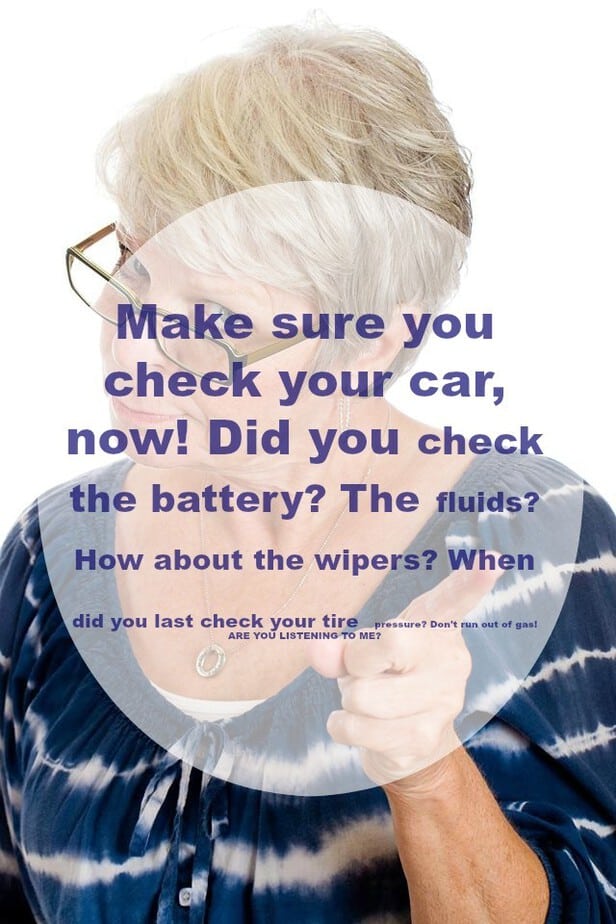 Do I sound like I'm nagging you about winter weather and your car?  I am!  It matters! It's important! Plus the picture cracks me up.
Up first? The big cheese, the star of the car… Batteries!

The vehicle's battery is essential to giving your car the life it needs to run on a day-to-day basis, starting your car, powering the lights, wipers and more. Every second your car is running your battery is charging, however all car batteries will eventually die and need replacing. No battery? No moving. No power, no nothing. Zip, zilch, nada.  If you've ever gone to do something and had your battery dead, you know that feeling.  Winter can do a number on that battery in your car, so pay some attention to it.
There's a few things you can do to make sure your battery is ready for anything the weather throws your way. First, check the terminals on top of the battery.  You don't want to see anything special there.  Rust, corrosion, build up= not great.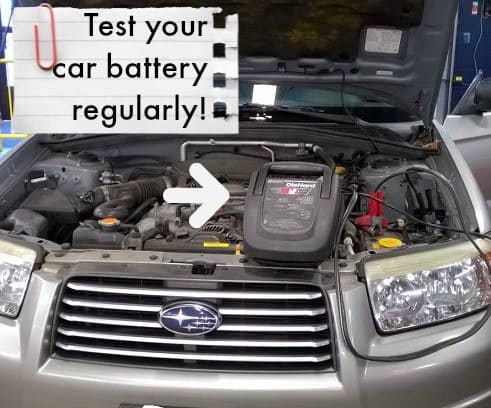 When you go for any service, ask them to check your battery.  Doesn't take long and wouldn't you rather spend a few minutes now making sure your battery is ok than a few hours on the side of the road waiting for a tow truck because you didn't?
We have something similar to this. If you don't have one, I totally recommend getting one.  We have one because we have an older (2004) Sienna and if the kids leave a little light on in the back of the van, it kills the battery. (They've changed the design so this can't happen now, but our van still runs great so we deal).  Or if they don't shut the slider door… Needless to say, we've used the portable power pack more times than I can count.  It's also helped us get through week-long power outages with recent storm events.  EXCELLENT investment plus it's not super expensive.. There's a lot you can pay attention to that will help you to ensure your battery won't fail at the worst possible time (like there's a good time, right?)! I found this super handy infographic on Sears Auto Center that I find really helpful. (Click the infographic to view and/or download it in a larger size)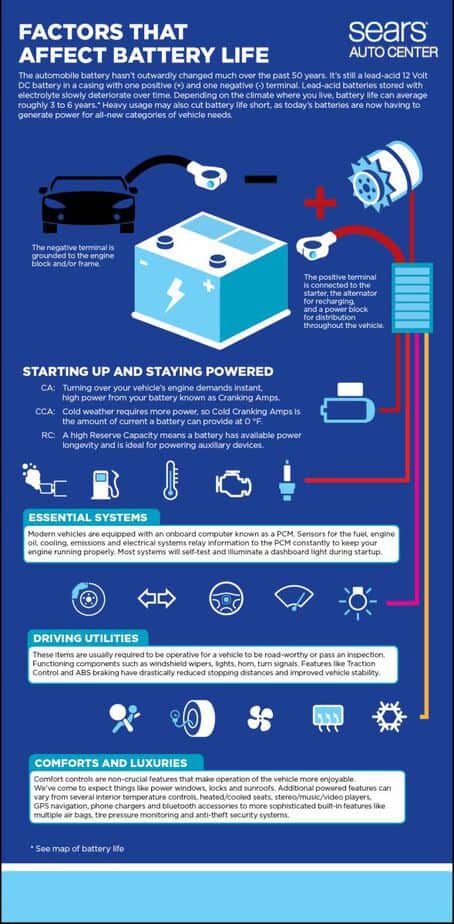 Windshield Wipers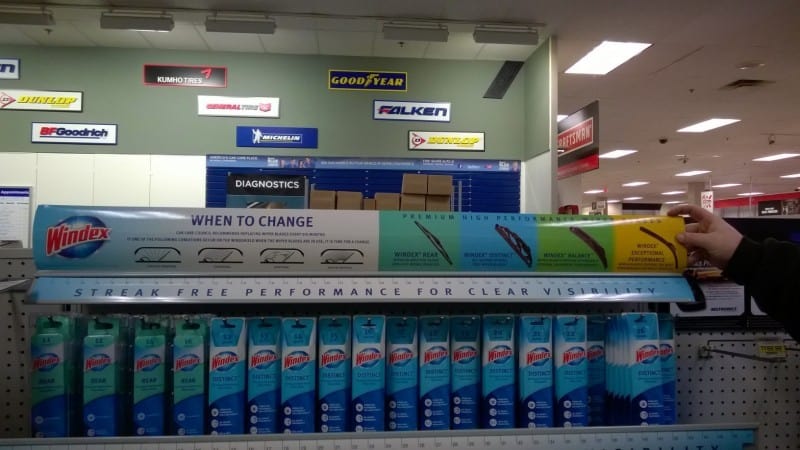 One of the most significant aspects of driving safety is your ability to see the road clearly. In blowing sleet and snow, that's not always 90% of our driving decisions are made based solely on visual information, yet one out of every five vehicles on the road have deficient windshield wipers.  Did YOU know that you should be changing your windshield wipers every 6 months?  I didn't. And I'm a pretty heavy windshield wiper user (my husband swears I use more wiper fluid than anyone in the history of people who use wiper fluid…but I like my windshield super clean!). A quality set of windshield wipers and the right wiper fluid for the temperatures in your area are essential to being safe throughout the coldest weather. According to Weather.com, special windshield wipers with protective blade covers really do make a difference when the snow falls. You can also find winter fluids specifically created with de-icers to help keep your vision and blades clear. (I buy 3-4 jugs at a time. Toilet paper and wiper fluid are two things we never run out of around here).  
Other Wintertime Problems
Cold temperatures paired with ice and snow can exacerbate the following problems, leading to breakdowns and accidents (technician to utilize car as visualize, when possible). When I arrived at the SAC last week, there was an elderly couple waiting to see why their car hadn't been starting well.  Turns out, their battery didn't have a good charge in it and needed to be replaced.  I couldn't help but think how good it was they'd gone to seek testing and get answers – this was when temps were hovering around zero with wind chills way below zero and things could have gone bad quickly for them had they not gotten their battery tested.  (The Subaru in the main photo and the battery testing photo belongs to that couple).
Also?  The stuff they put on the roads can do a number and wreck the underside of your car.  This was a van's underside, that was in the shop during my visit.  This ISN'T bad rust.  The tech told me that ice and salt can eat huge holes in your vehicle.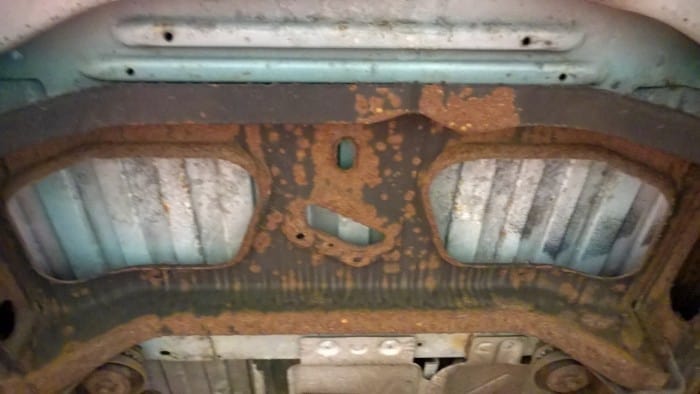 Low Tire Pressure
Cold temperatures cause tire pressure to drop, leaving you vulnerable on the road. Properly inflated tires mean better handling for you and a bonus? Better gas mileage.  Plus, without tires, no car can GO anywhere, so they are kind of a big deal in terms of things to pay attention to.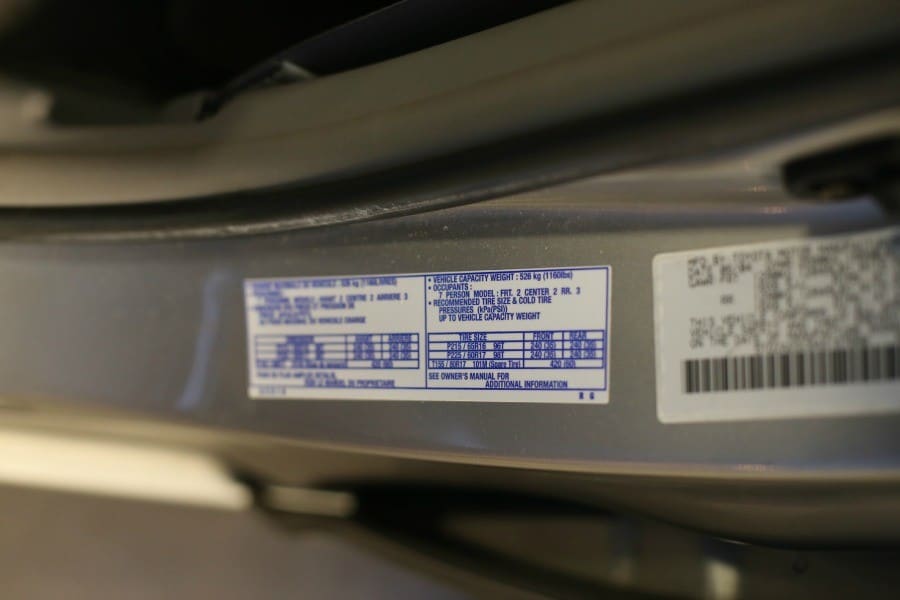 Forget about the numbers embossed on your sidewalls and go with the pressure rating in your owner's manual or inside your driver's side door. These are the manufacturer's specs.
Old, Dirty or Incorrect Fluids
  All fluids in your vehicles should be updated to deal with cold temperatures. All of them.  Old fluids can have build up or not have the right ratio in the mix, which can mean disastrous things for your car as a whole.  Really, that old saying, an ounce of prevention is worth a pound of cure, is SO totally applicable with the car. Fresh antifreeze helps your components stay lubricated in subzero conditions and keeps contaminants from marring your radiator, preventing rust and leaks. A radiator fluid exchange before the season kicks in will also ensure your car has an easier time maintaining the correct temperatures. Fighting the cold while keeping things warm is a tough battle, and one that many radiators lose by the time winter is over.
This may look like a pool test kit, but it's actually a kit to test your vehicle fluids. Kind of cool, right? (Just a note- that's an unused strip).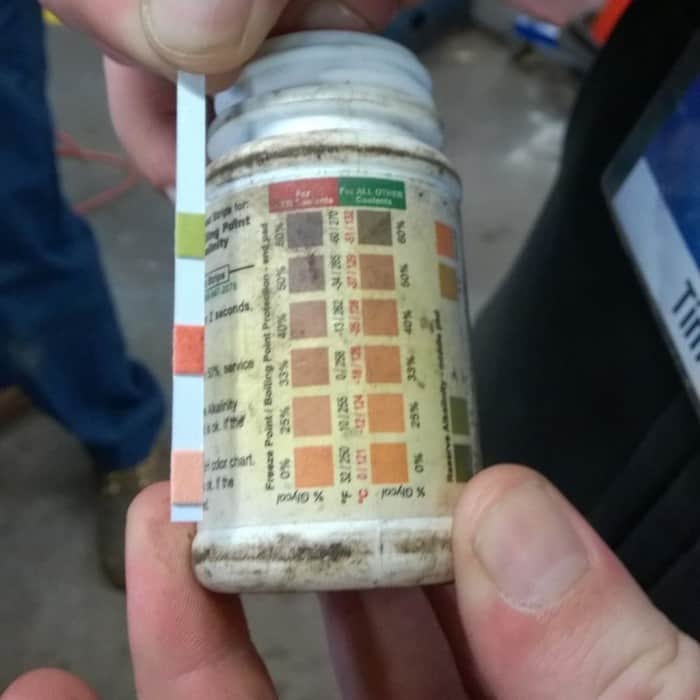 Frozen Gas Lines
Keeping gas in your car makes more sense during winter than any other time of year. Seriously.  It's not a good idea.  What if you pull a Brett and feel all cocky that you can make it to that next gas station, 3 miles away…. and then you get stuck waiting in traffic?  Boom.  Out of gas.  It's cold in the winter, friends. Do YOU want to be sitting in a car that won't start because you have no gas?  I don't. Really. I was reminded of this a month ago (thankfully NOT in frigid temps, it was a very lucky day for me)…. I'd intended to stop at a gas station but there was a significant amount of construction just before the exit and I was thinking about the workers and not the exit and I missed it…  
Not only will being stranded in the snow be more uncomfortable and dangerous than other times of year, but running low on gas allows moisture to pool in your gas lines.
Once this occurs, all it takes is a big temperature drop for your gas lines to freeze.
You can buy a commercial additive to pour directly into your tank to help prevent lines from freezing.
However, the best way of preventing this common (and frustrating) problem is simply by filling up long before your car is on empty. In other words, don't be a Brett.  I can't believe how stupid I was, and thankfully the kids weren't with me.
Misaligned and Damaged Shocks and Struts
Winter brings a constant cycle of freezing and thawing, as well as salt and other chemicals designed to melt the snow and ice. This combination can lead to cracks and gaping potholes in the road.
Have your car's steering and suspension system checked to make sure your shocks and struts haven't been damaged by uneven road conditions.
Your alignment can also be affected by potholes. Experts recommend an alignment check every year or 12,000 miles.
If you feel your car is pulling to the right or left, bring your car in for an alignment check.

Thank you SO much to Sears Auto Center for inviting me to be a part of the Sears Auto Center Rules of the Road program. I've learned a lot and had some fun along the way!