This weekend starts the ABC Family Channel's 25 Days of Christmas. Have you been checking out the ABC Family 25 Days of Christmas schedule?  We look forward to this event every year.  It's one of my most favorite things to snuggle and watch holiday shows with just the tree lights on!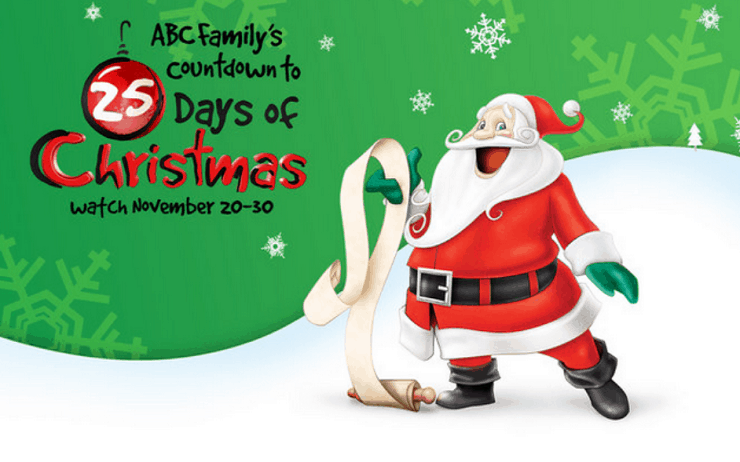 Photo Credit: Abc.go.com
If some of the shows or movies don't sound familiar to you, you can click the link to see a synopsis or review. For some of them, they are new this year produced by ABC or Disney, so I posted the most closely related show or movie.
You can either see the schedule and watch it on TV, or, I've given you the link to the item on Amazon so that you can purchase it and watch it at your leisure.
Click the picture to make it larger or right-click to print. You can also use my print button to make this a printable schedule for the ABC Family 25 Days of Christmas  schedule.
Sunday, December 1, 2013
Monday, December 2, 2013
Tuesday, December 3, 2013
Wednesday, December 4, 2013
Thursday, December 5, 2013
Friday, December 6, 2013
Saturday, December 7, 2013
Sunday, December 8, 2013
Monday, December 9, 2013
Tuesday, December 10, 2013
Wednesday, December 11, 2013
Thursday, December 12, 2013
Friday, December 13, 2013
Saturday, December 14, 2013
Sunday, December 15, 2013
Monday, December 16, 2013
Tuesday, December 17, 2013
Wednesday, December 18, 2013
Thursday, December 19, 2013
Friday, December 20, 2013
Saturday, December 21, 2013
Sunday, December 22, 2013
Monday, December 23, 2013
Tuesday, December 24, 2013
Wednesday, December 25, 2013
0