Getting your kids ready for back to school is fun with this Apple Garland. I would leave it up longer than that, actually, now that Fall is here. It works well for the season too! It's not hard to make at all. You just need some yarn, twine and a few other materials. It really adds a pop of color to your mantel or anywhere you choose to hang it!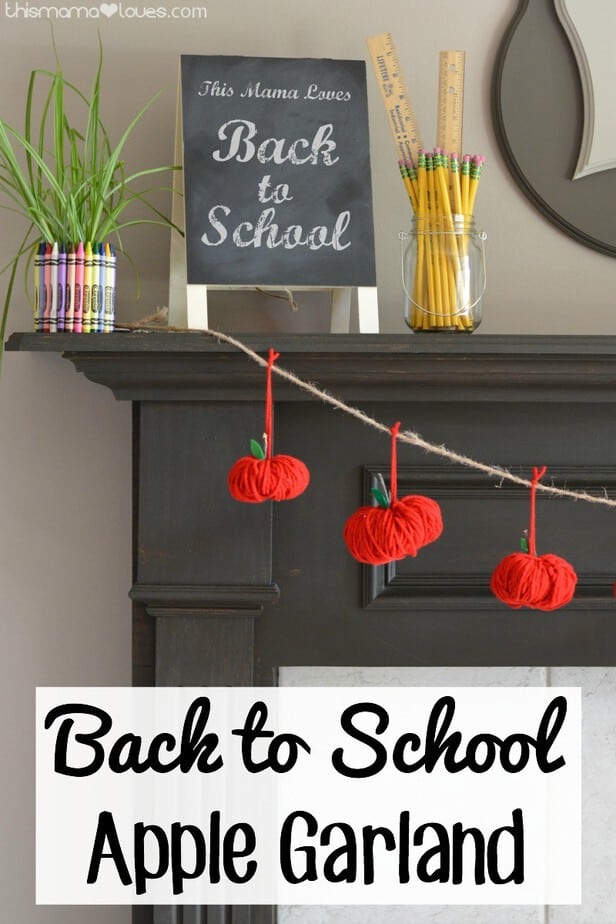 Back to School Apple Garland
Materials

Red Yarn
–Used Red Heart in Cherry Red
Green Felt
–used two different shades
Twigs from trees
hot glue gun
twine
wire cutters (optional)
scissors
ruler
Directions
For each apple, you will need:
12″ piece of yarn
1-2″ stick
1-2 green felt leaves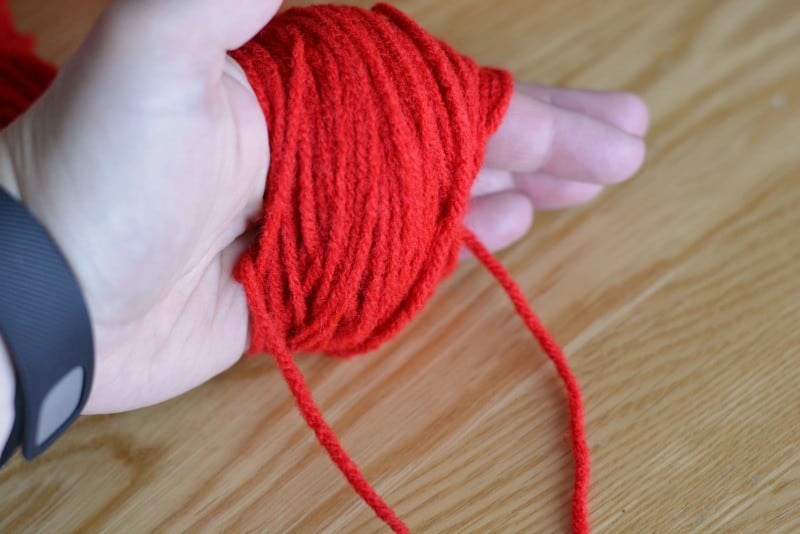 Wrap the yarn around the palm of your hand. And continue to wrap until you have wrapped it around your hand 125 times. When you are wrapping, be sure it's not too tight because, 1) it will be uncomfortable and 2) it needs to slide off. So just keep that in mind.
When you are finished, cut the yarn and tuck the 12″ piece of yarn under one side of your hand to keep the loops together. Gently slide it off of your palm and tie the loops together. Tightly. Double knot and keep the tail long.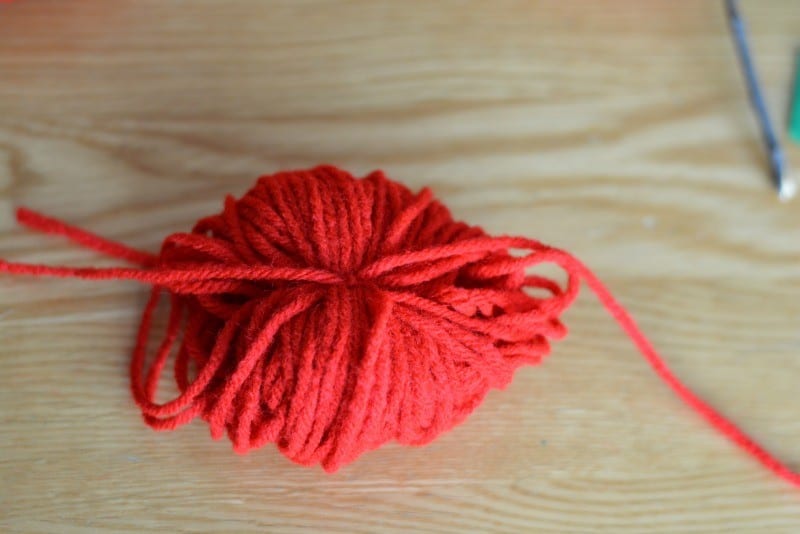 Gently flip over the bundle of yarn and use the same string to tie it onto the other side, wrapping the yarn around the loops and double knotting.
You have an apple. Keep the tail long, and slip knot it to hang.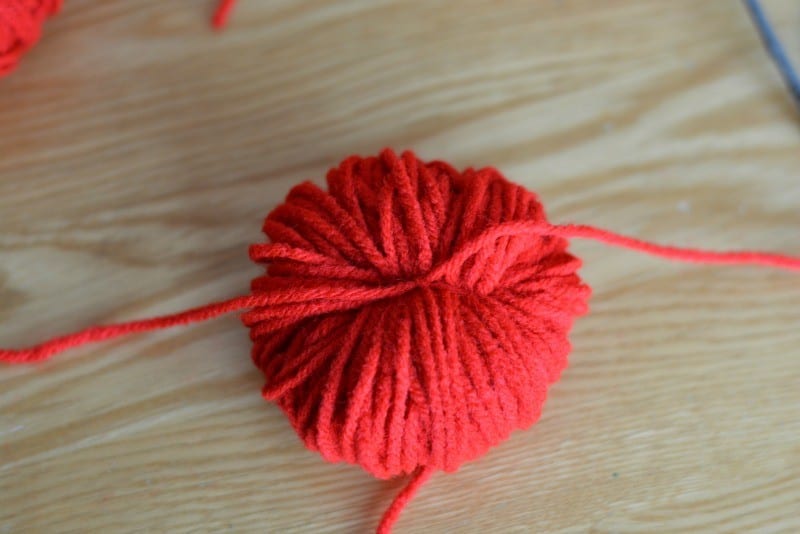 Cut your twigs with a set of wire cutters, if available. I find this is the easiest way to cut them. You can also break them with your fingers. Stuff a stem into the apple near the center not.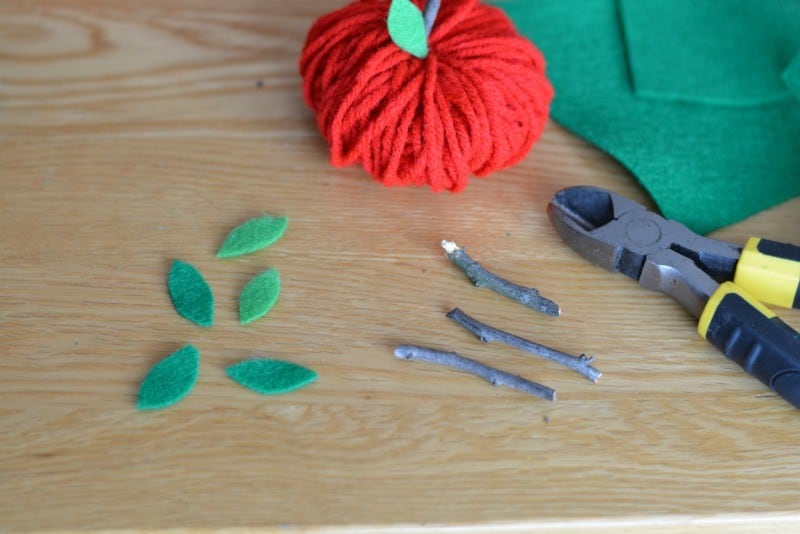 Cut out small leaves with scissors and green felt. Attach them to the stem with hot glue.
Repeat until you have the desired number of apples.
Measure the space you want to hang your apple garland and trim your twine to that length. Slide your apples onto the twine and hang as desired.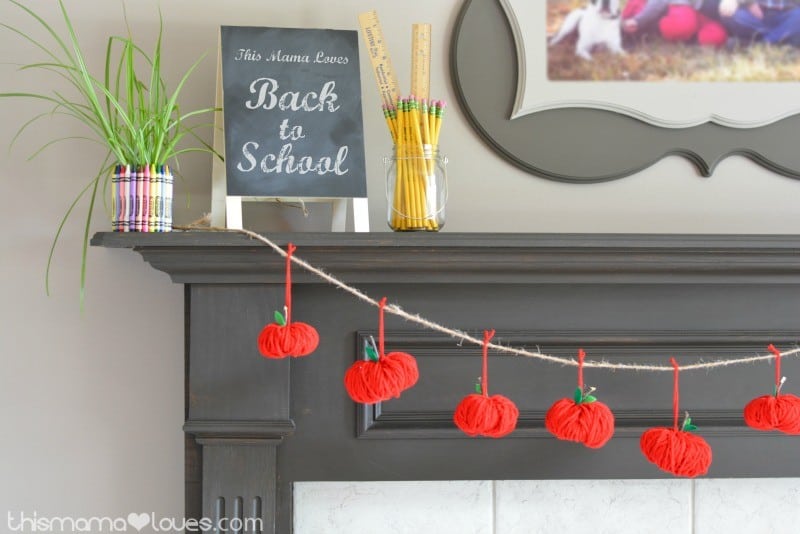 Make our DIY Crayon Storage Cup to accessorize the mantle along with the apple garland! You can also find our not so spooky cat Halloween garland to make here and a cute little ghost garland to make, too!