John Schlimm, author of Grilling Vegan Style, recently wrote another awesome cook book.  The Cheesy Vegan, More than 125 Plant-Based Recipes for Indulging in the World's Ultimate Comfort Food was sent to me by DaCapo Press.  I have been following John on Facebook and Twitter for a long time.  He is such an upbeat, positive person that loves life.  His recipes reflect his personality.  They are fun and full of flavor.  The Cheesy Vegan is full of appetizers, suppers, soups, desserts and more.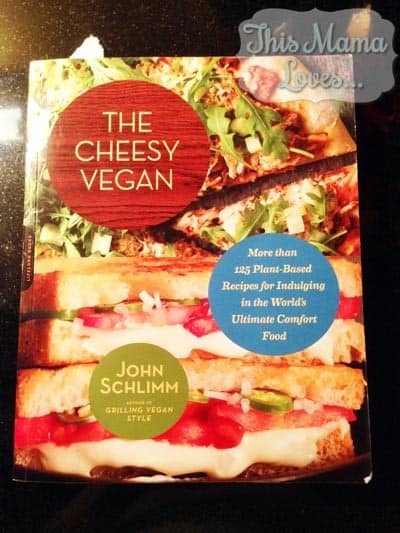 From The Publisher
Long regarded as the missing link in the plant-based world, vegan cheese has come home to Main Street! With more than 125 recipes for every cheesy craving, John Schlimm has you covered from breakfast to lunch to a hearty dinner with family and friends. From easy recipes for everyday cheeses to ultimate comfort food like Mac 'n' Cheese, Café Broccoli & Parmesan Quiche, the Grilled Cheese Trio, Triple Your Pleasure Fondue, and the Cheesecake Extravaganza, you can indulge in all your cheesy favorites . . . with none of the dairy and all of the flavor.
~ With recipes for 25 everyday cheeses, including Cheddar, Swiss, mozzarella, brie, blue, and Jack ~
Here is a recipe for Flying Buffalo Dip from The Cheesy Vegan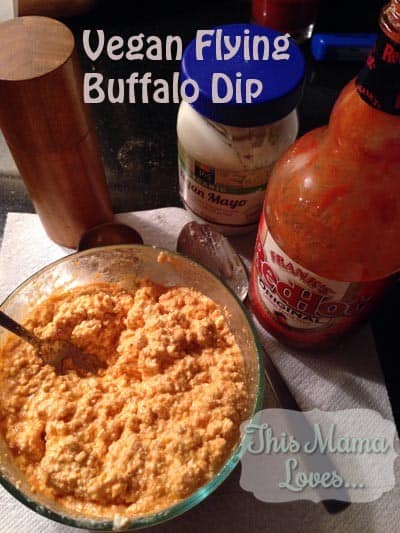 Flying Vegan Buffalo Dip
Recipe Type
:
Vegan Appetizer
Author:
Prep time:
Total time:
Game day is calling and it wants a Buffalo "wing" dip everyone can enjoy! In addition to serving this dish alone with toasted pita triangles, another option is to serve it alongside homemade Blue Cheese Dressing (page 41) or Blue Moon Dip (page 136) with celery sticks for dipping.
Ingredients
12 Ounces Extra-Firm Tofu (pressed and drained)
1 cup finely shredded vegan cheddar cheese
1/2 cup vegan mayonnaise
1 Tablespoon fresh squeezed lemon juice
2 teaspoons cider vinegar
1/2 teaspoon garlic powder
1/2 teaspoon onion powder
salt and freshly ground black pepper
3 Tablespoons Frank's Red Hot Cayenne Pepper Sauce or to taste
Toasted Vegan Pita Triangles, for serving
Instructions
In a large bowl, combine the tofu, Cheddar cheese, mayonnaise, lemon juice, vinegar garlic powder, onion powder, salt, pepper and hot sauce. Mix well, and serve warm or at room temperature with toasted pita triangles.
Notes
From the book The Cheesy Vegan by John Schlimm. Excerpted by arrangement with Da Capo Lifelong, a member of the Perseus Books Group. Copyright (c) 2013. www.dacapopresscookbooks.com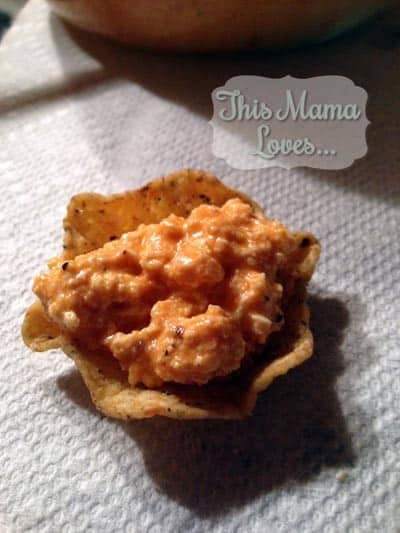 This dip was a huge hit.  I was able to whip it up quickly on a Saturday evening and have it with some chips and celery.  I can also see using it as a spread on a wrap or sandwich.  I added more than 3 Tablespoons if hot sauce because we like things spicy!
A copy of this book was provided to facilitate this review.  All opinions are my own.