Harry Potter Interactive Wands at Universal: Which Wand is the right wand for me? Are the Harry Potter Wands Worth it?
When visiting Universal Studios of Orlando, Florida, if you are like most people, you are going more to see the Wizarding World of Harry Potter than any other section of the parks.
Both Islands of Adventure and Universal Studios have sections of the park dedicated to the Harry Potter films and books where you can easily spend several hours…or days.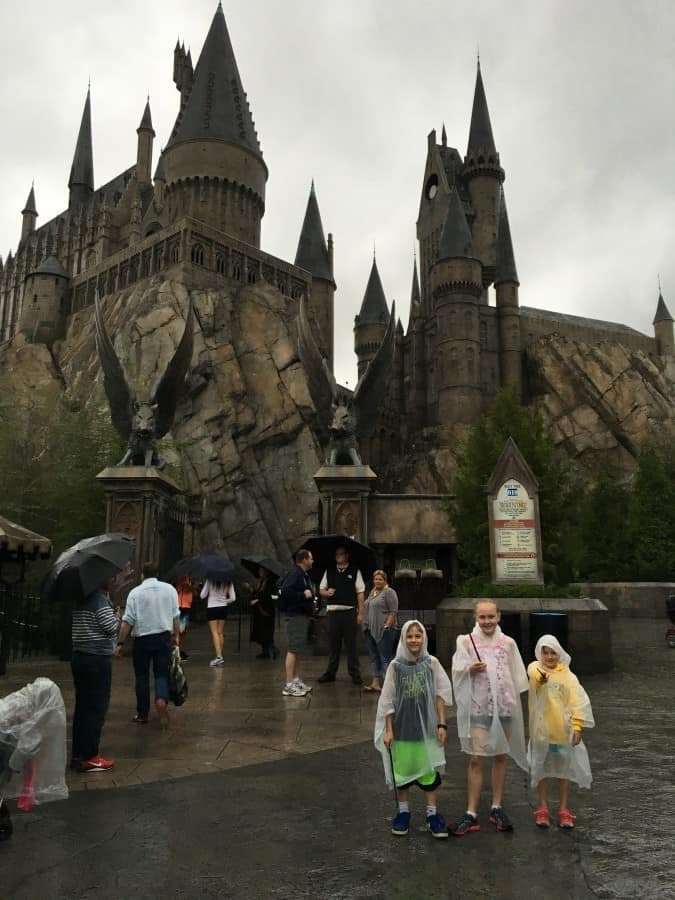 There are some absolutely amazing rides, like the Forbidden Journey at Hogwart's Castle, which my husband has said is the best ride he has ever been on, and even waiting to go on the ride offers a chance for visitors to experience and see so much of the castle and the wonders within. There are many, many cool shops to check out, fantastic drinks and candies to try and much more. But the main draw for so many Potter fans out there when visiting is the wands they sell.
There are actually three different types of wands available for purchase and so here is some information on each one for you, so that when you plan your visit, you can already have the scoop on which wand is the right wand for you or for your children (or both). Are the wands worth the price? I say yes, for those of us who already know and love Harry Potter and his world, and for those who fall in love with it all when they are experiencing it at the Universal Parks. These are a fun way to explore the park and interact with it, creating new memories and having a souvenir to bring home from the trip.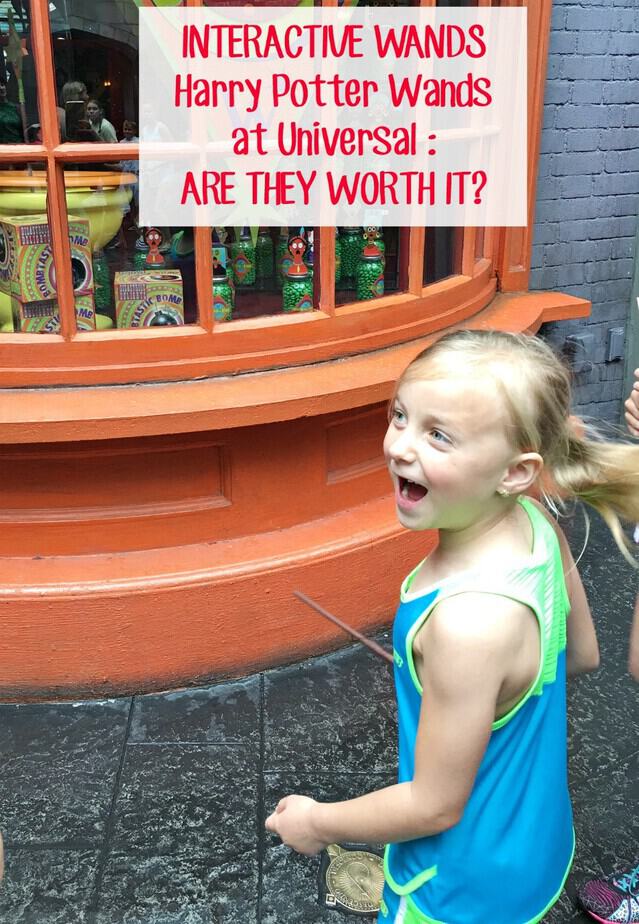 How much are Wands in The Wizarding World of Harry Potter?
The replica wands were the first available in the parks. They are each based on the wands used in the film by different characters. You can purchase a replica of Harry's, Hermione's, Voldemort's, Dumbledore's, Sirius Black's, and many more. They are all very unique in style and if you browse online for them, you can easily find samples of what they look like. They run about $39.95 each.
These replica wands are made from a resin type material and they do really look authentic, are sturdy and definitely better than the copies out there that are floating around. (I know this from experience, having bought some on Ebay for my kids, who promptly had them broken in no time.)
Where at Universal can you purchase Harry Potter Wands?
Now, when you visit the parks, you can get these types of wands in the larger souvenir shops at the front of the parks, or in Ollivanders wand shop, as well as a kiosk or two that are in the Wizarding World areas.
However, the second type of wand they sell, which they call the Unclaimed Wands, are specific to Diagon Alley, in Ollivanders shop only and cannot be purchased in Hogsmeade at Islands of Adventure, so keep that in mind if you have your heart set on one of these.
These Unclaimed Wands are based on J.K. Rowling's research when she was designing the wands for the characters and had found that certain woods that are in the Celtic Tree Calendar she was drawn to. So there are a variety of these wands based on that Tree Calendar. They are on display in the corner in Ollivander's and there are people working there to help you with questions and to choose the right one for you. It really is a neat thing to see, even if you aren't going to purchase one. They are called "Unclaimed" because they are not based on any specific movie character's wands. The Tree Calendar helps you to select an Unclaimed Wand based on your birthdate- friends of ours chose this route for their 8 year old and she's still delighted with her wand months after returning home.
Now, the coolest (in my opinion) versions of the wands available are the interactive wands. They run about ten dollars more than the standard replica ones- but they are also equipped with special powers (on the tip) that enable the person wielding the wand to cast spells and do magic in several areas of the Wizarding World in both Universal Studios and Islands of Adventure. With each wand comes a map that will help you find any marked spell areas. (Note: I said marked areas. Not all spots where you can work magic are marked, some are secret, and add to the fun of exploring the parks). Interactive Wands come in the same size and shape box as other wands, but the sticker labeling them is gold colored.
How do the Harry Potter Wands at Universal work?
They have designed this whole system to be really fun for people, and quite honestly, it's just as much fun to find one of the spots and watch other people come up and use their wands, too. There are Wizarding World characters who are readily available for some assistance or guidance with spellcasting- sometimes they are a little temperamental and everyone seems ready and willing to help (including other park visitors).
What happens is, there are cameras at each designated spot that create a reaction when the wand is pointed there in the correct manner. You are given a map that shows you most of the spots, but they are also marked on the ground by these really awesome bronze type coins or medallions. Each one actually tells you the spell name to use and also has a point on it to direct you the right way to face. Every one of them is different, so they are really cool to see.
Now, the map itself is has some tips on it that you can't see in regular lighting either, you have to take it under a black light to see them. If you visit Knockturn Alley, you can find a black light there. There are some other spots for the spells that are not on the map, so if you truly want to know all the dirt before you go, there are websites with spoilers you can easily find.

If you can get in on the early admission time that they are now having, it would be ideal to go to Hogsmeade as soon as possible to do the spells. Hogsmeade gets super busy and congested in the streets most of the time which makes casting a few of the spells very hard. People passing by don't really know what you're doing and mostly are hurrying past, not paying attention and so that can really ruin that particular part of it.
Spells to cast at The Wizarding World of Harry Potter at Universal
I will tell you just a few examples of some of the spells to just whet your appetite. In Diagon Alley, there is a window with some trolls that you can make do a dance. Very cute. You can also perform the "U No Poo" spell to make a toilet flush. There is a really neat one involving a fountain in that area as well.
In Hogsmeade, you can levitate a feather, light some lamps and perform a silencing charm for one.
Most of all, enjoy the hunt and hope this helps your decision and that you find just the right wand for you!
Check out our other Universal Posts here!
What do you think of the Interactive Wands at Universal?
Thanks again to Universal Studios Florida for giving our family passes to enjoy the parks.