Mixed Berry Moscow Mule
Summer tends to bring friends together for more gatherings.  We have parties on the patio, backyard bonfires, camping with friends, or beach days.  Usually the kids play and have a great time entertaining each other while the grown ups get a chance to relax, occasionally with an adult beverage!  A glass of wine or a cold beer is nice but a friend of mine recently introduced me to the Moscow Mule and I'm hooked on this fun drink.  There are a lot of traditional recipes out there but what's the fun in being traditional?  Here's a recipe for a fun twist using blueberry & raspberry vodka.  I call it the Mixed Berry Moscow Mule and it's so refreshing! Want some more cocktail ideas? Cherry Strawberry Screwdriver, Chocolate Tiramisu Martini, Homemade Rum Cream, Peppermint Martini, Cranberry Martini and Jamaican Smile Cocktails!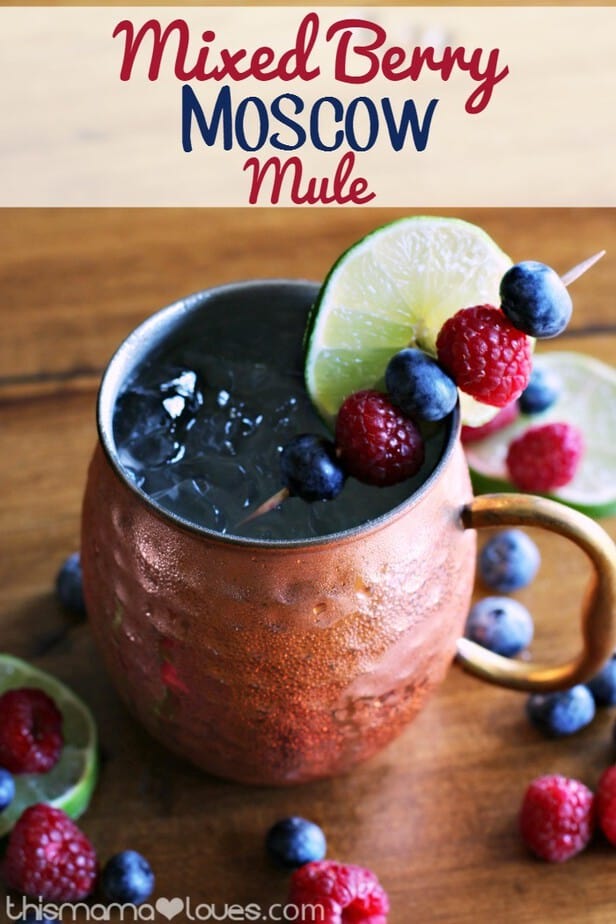 Mixed Berry Moscow Mule
Ingredients:
1/2 Shot Raspberry Vodka
1/2 Shot Blueberry Vodka
1/2 Shot Lime Juice
8 oz of Ginger Beer – I like to use one made with cane sugar not corn syrup
Splash of Blood Orange Bitters or Triple Sec
Lots of Ice
Fresh Blueberries and Raspberries for Garnish
Fresh Lime for Garnish
Copper Mug – This is a must for the Moscow Mule drink!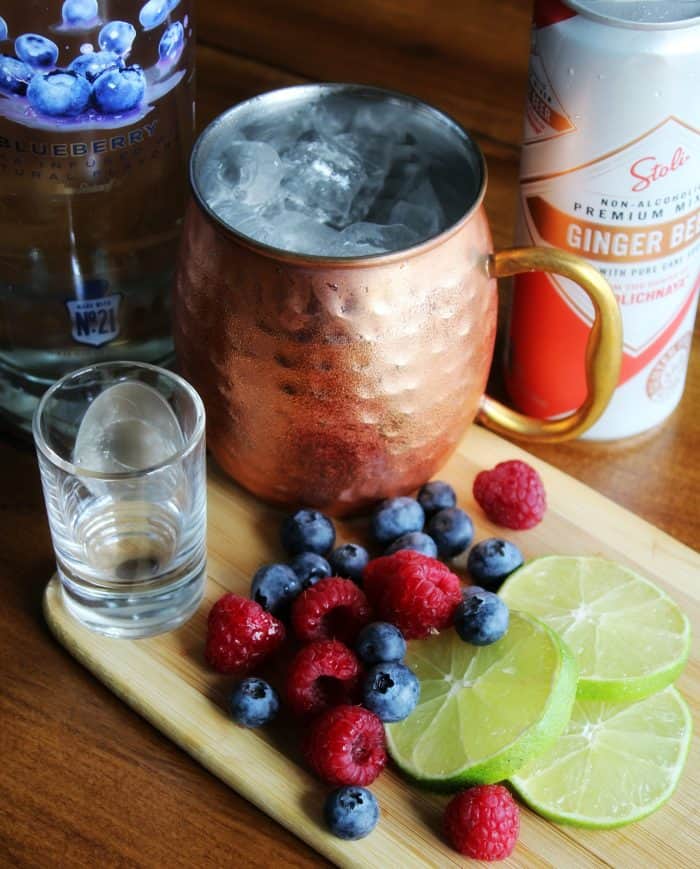 Instructions:
Fill the cup with ice.
Add the shots of liquor, lime juice, and bitters.
Pour the ginger beer into the cup, filling almost to the top.  It may take a little more or a little less than 8oz depending on mug size and how much ice you use.
Stir well!
Thread the blueberries and raspberries onto a small skewer stick or toothpick and place on the side of the cup with a lemon slice.
Enjoy with friends!

The story of the Moscow Mule, and the copper mug, dates back to 1941 and a woman name Sophie who immigrated to the United States from Russia.  Sophie's father owned and operated a copper factory and she had designed a copper mug.  The mugs didn't sell in Russia though so Sophie came to America with them.  After walking into the right place at the right time, Sophie found herself and her copper mugs sitting with John Martin (who had purchased the Smirnoff Vodka distillery during a time when Americans wanted nothing to do with Vodka) and with Jack Morgan who was trying to introduce America to his own brand of ginger beer.  The three spent hours coming up with a drink that would combine the fizzy and spicy ginger beer, the vodka, and the cold of the copper to create a great cocktail.  They tried and failed a few times but eventually the Moscow Mule came to be that day.  The copper keeps the drink extra cold and it actually enhances the flavor and the aroma!
[mpprecipe-recipe:2248]