I am so excited to tell you all that our tough-to-decorate living room is now functional- and BEAUTIFUL. Small living space design is possible- it's just something you  need to be (very) creative with. Our once awkward living room space that was short on style, function and seating is now beautiful, functional and has plenty of seating!
The inspiration for this room came from Option 3 (remember, I shared with you the three concepts that Raymour & Flanigan sent over a few weeks ago)! Many of you also chose option 3- does it scare you that so many of you think just like me?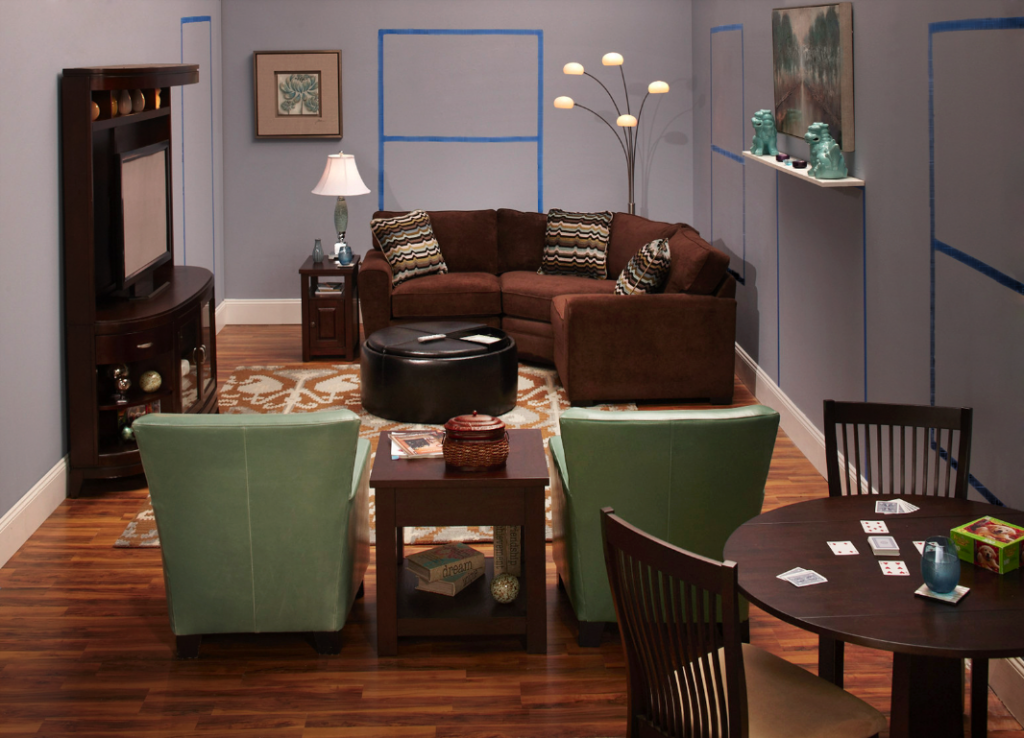 Now, you can also make a mockup of furniture placement for yourself – for free- right on Raymour & Flanigan's Room Planner. It's a great tool- we were able to try so many pieces in different configurations and it was nice to be able to see what the physical space was going to be between pieces- something I have to admit I kind of didn't think of at first.  Thankfully one of us in this house has a good head on their shoulders.  🙂
Once we knew we were going for this look, I headed into our local Raymour & Flanigan to make sure the pieces were both comfortable and something we liked the look of before bringing the whole family in.  The staff was more than helpful and gave some very good insight and suggestions to work with the concept we liked best. About a week later, all five of us descended onto the same store…. and I have to tell you, we had so much help. SO much.  Not only were the staff members available for questions, but they were quick to offer suggestions and alternatives when we were unsure of something, offering bottles of water to the kids and asking them lots of questions as we parents shopped and looked into details and measurements. As a mom, this is a BIG DEAL to me- we can't always hire a sitter to take the kids so they are often with us for purchases and decisions like this and being in an environment where the kids are not just tolerated but welcomed and talked with is a HUGE thing and one that will get me back through the doors next time I have a similar purchase to make.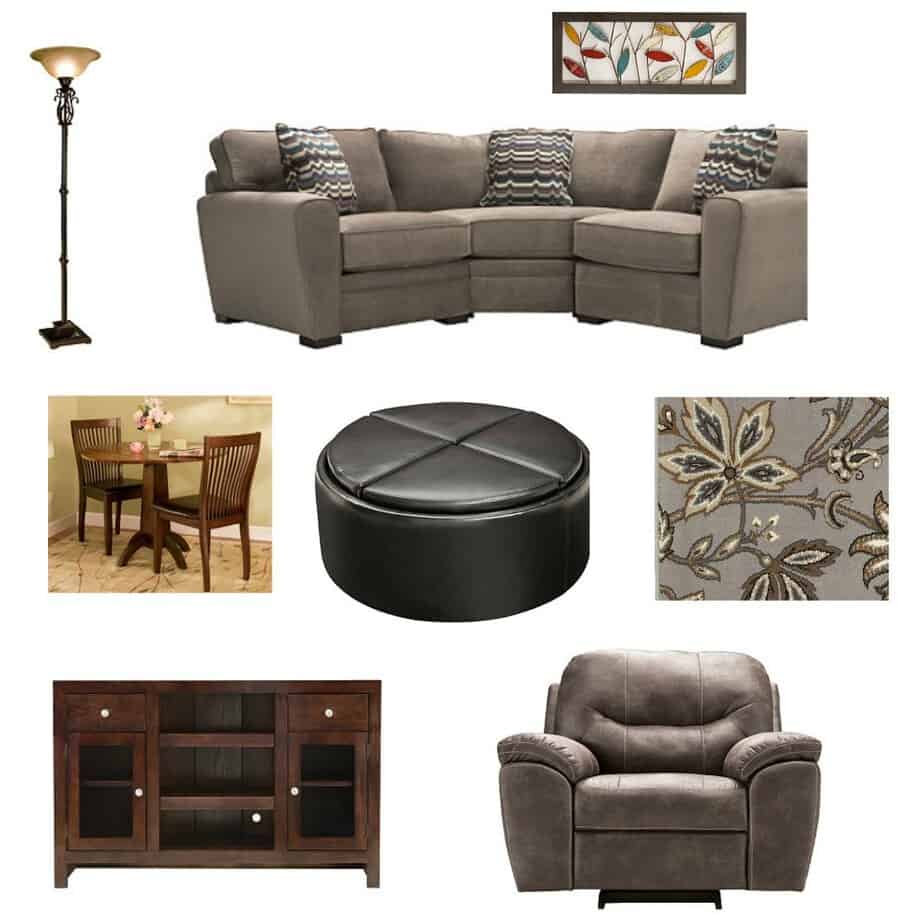 What they suggested vs. What we chose
We loved the overall feel of this design. We felt like the 2 chairs and a table might not be the best fit for our family since the kids like to pile on daddy when he's in a chair… so we opted to look into some of the larger chair options.  The Artemis II 3-pc. Microfiber Sectional Sofa was an absolute yes for us- although we didn't go with the chocolate color as pictured above.  That would be directly due to Tobey, our yellow lab who sheds like crazy! The actual pieces we have here at the house aren't quite the same as the 3 piece on the site- we have a loveseat on the left and a right facing chair on the right with the wedge in the middle.  The wedge, by the way, is the coveted spot by all 3 kids and mom. The stores carry the Artemis II pieces in both the River Rock and Gypsy Vintage (our color) in stock so there wasn't a delay for us in ordering a different sized option.  That one extra seat on the couch has made a huge difference for family movie nights and game nights!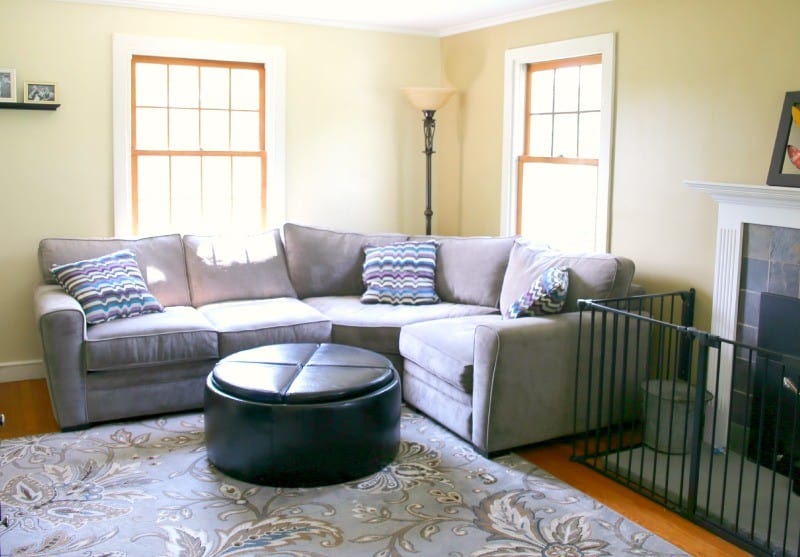 Entertainment Center – while we liked the unit chosen, we weren't sure we wanted a full sized unit.  We opted instead for the Del Mar 52″ TV Console – a shorter unit that we thought would help make the room feel larger. It also keeps the television just a bit higher off the ground and a little further away from little hands!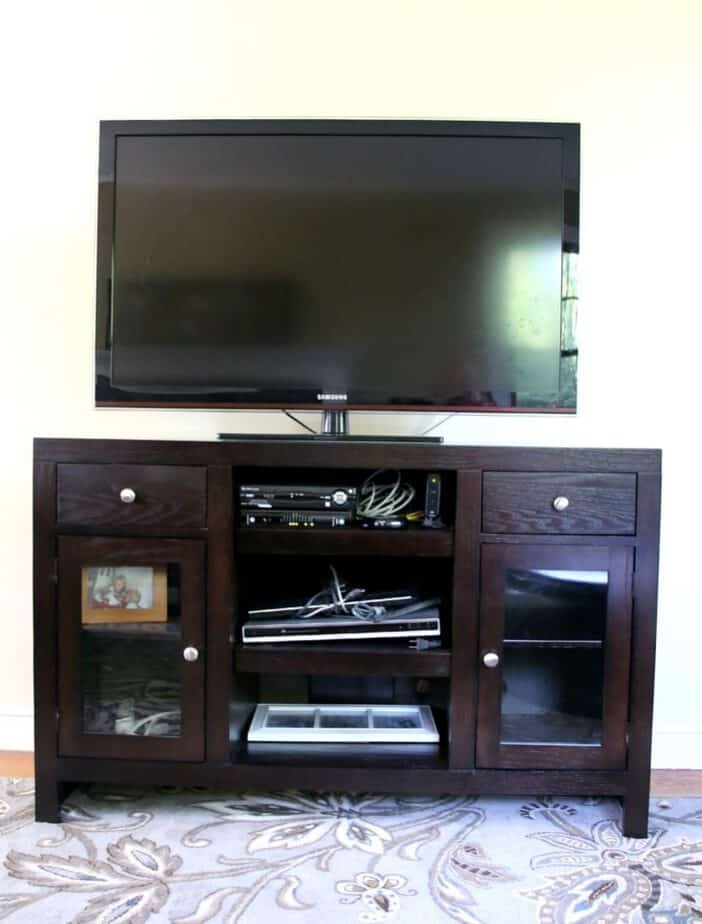 Chairs with a table mid-room.  The Phoebe leather accent chairs are darling. I sat in them at the store. They just aren't something that would fit our family needs.  If we had another living space, or a more formal living room, I would get at least one of these because they are a fun color, great design and actually quite comfortable. We had a mission to maximize space and usage and stuck to our goal. We went through at least 35 chairs before we made a decision. Kind of like Goldilocks, only times five.  The Emmett Microfiber Rocker Recliner had us at "hello" because of the super comfy cushioning, wide seat (it's 50 inches wide, so small enough for our space and large enough for at least an adult and kid to snuggle), and luxurious fabric in a charcoal color that complements the lighter grey of the sectional and offers a different texture for contrast.  I'm in love with this chair. It's that chair that I'll snuggle up with a blanket and lose myself in a book for hours on end.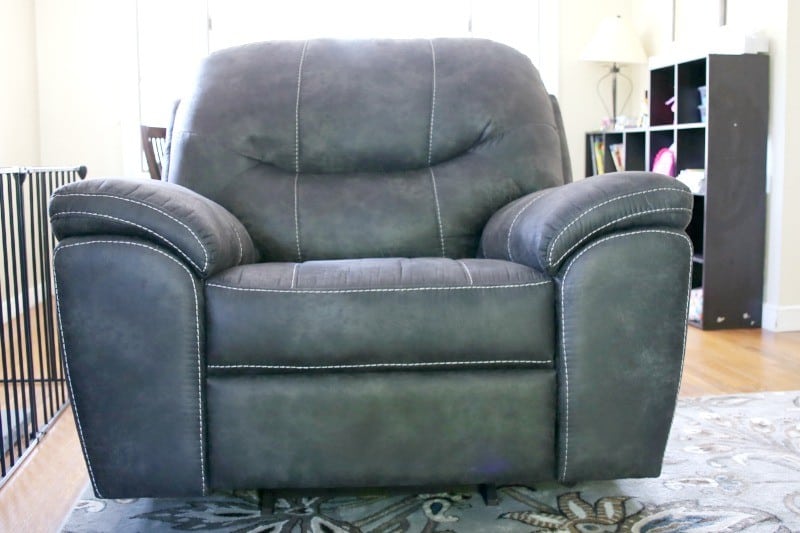 Living in a smaller, older home, we are short on closet and storage space. The Karia Flip-Top Storage Ottoman gives another texture to the room, a place for playing games, setting drinks or snacks, resting feet, or even extra seating.  The rounded shape means less bumps into corners- and helps give a more spacious feel in the room. This suggestion was spot on!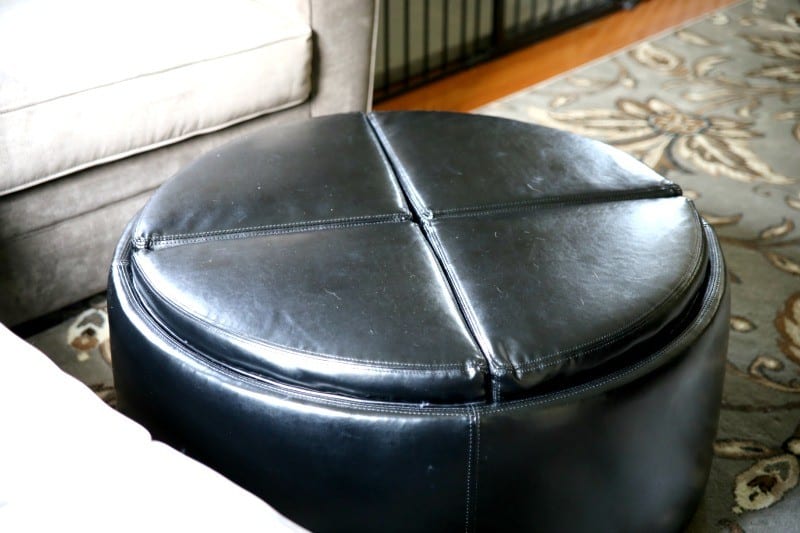 Floor lamp. We love the idea of a floor lamp behind the couch- the wedge gives a nice little space for a lamp (and soon, a small table).  We opted for a single uplight because we felt like the arc lamps might get bumped and knocked around a lot with kids in the house.  The warm bronze dark finish of the Multi Scroll Floor Lamp fit with the colors we were going for in the room and also had the uplight feature so we could worry less about kids bumping the glass.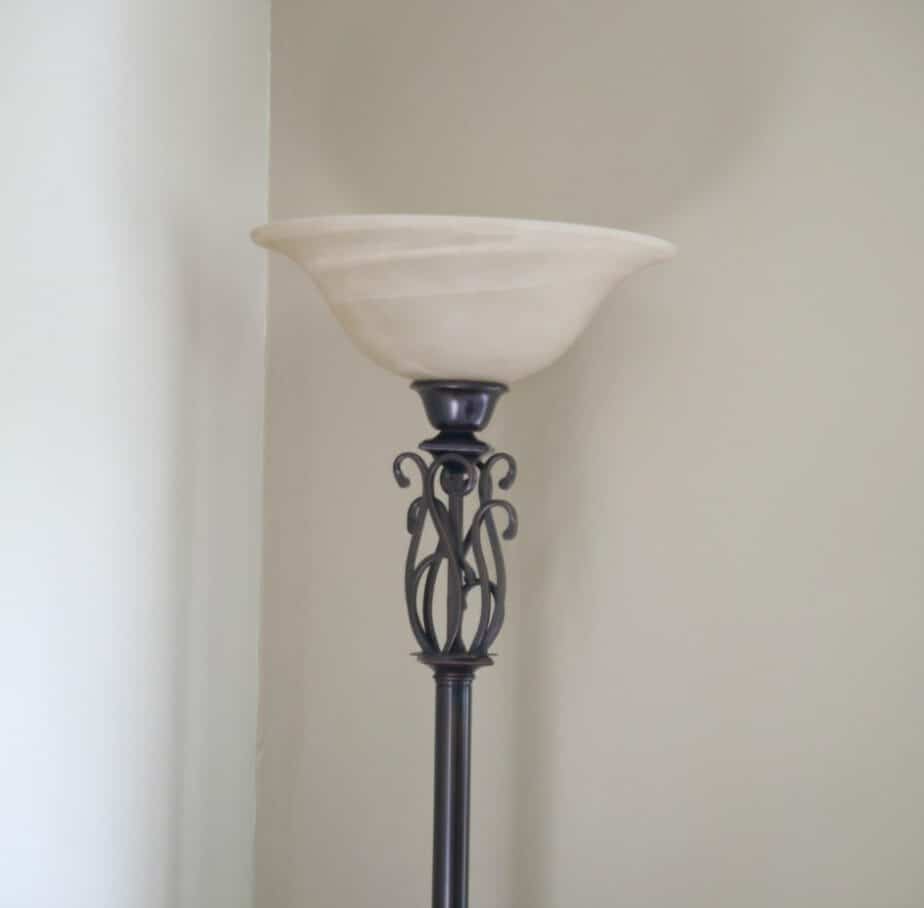 Small table and chairs. I LOVED the Nevada 3-pc. Dining Set when I saw it. I knew the kids would want to sit and play games, build Legos, puzzles, do homework, etc. together.  (I didn't really think the whole 2 chairs thing through, and we will likely be adding 2 more to the mix quite soon). The colors work with the room and drop-leaf sides mean that bigger puzzles or games, or groups can be accomodated.  Cards, anyone?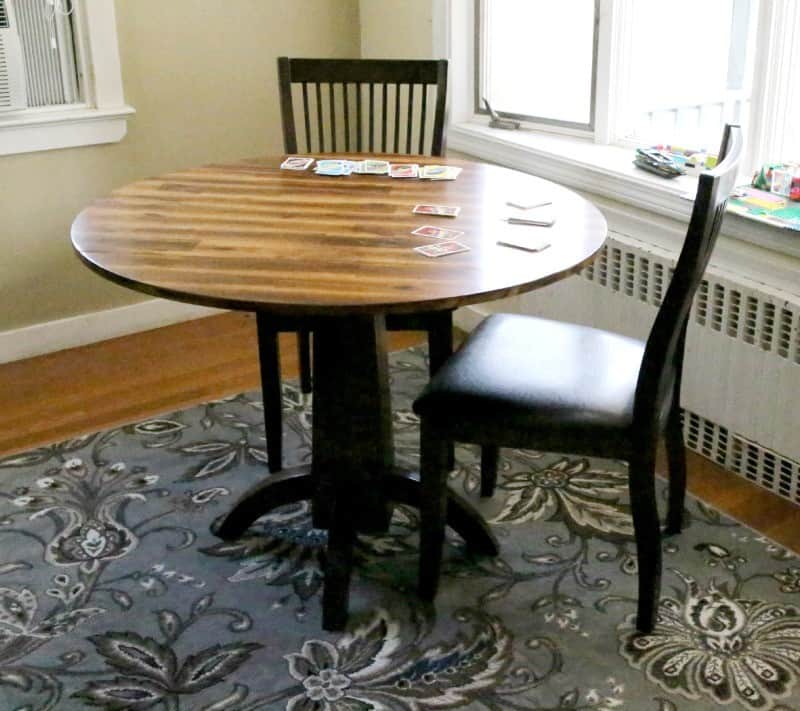 Area rug- given that most of what we'd chosen was in greys, browns and blacks ,we thought a silver or grey based rug would work well to pull things together in our living room.  We did the Brigitte Area Rug in two sizes, one for the main area and a smaller size for the "kids' end" of the room.  It helps define the spaces but adds some warmth and comfort to the room.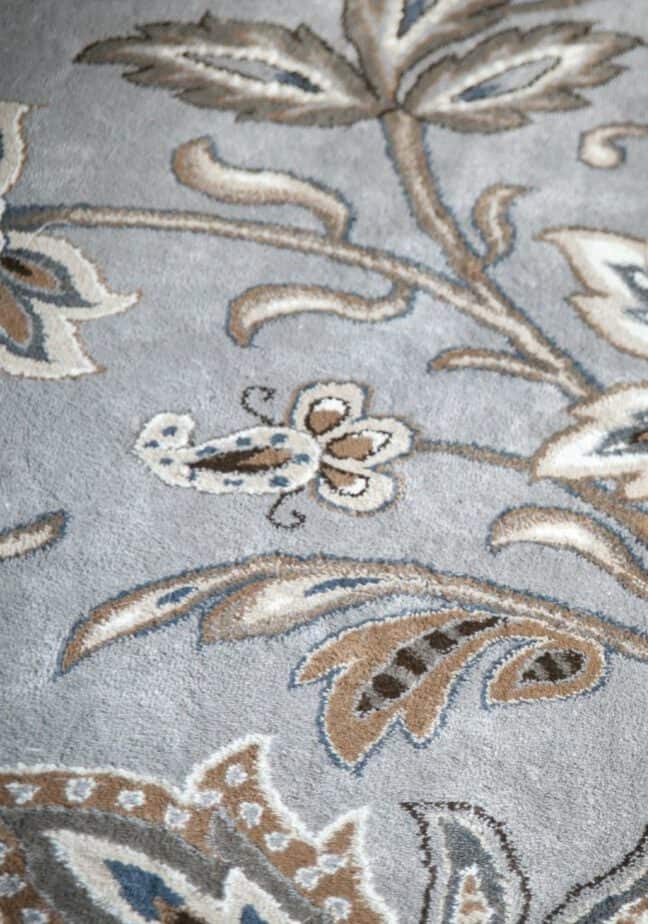 REVEAL!  It's reveal time!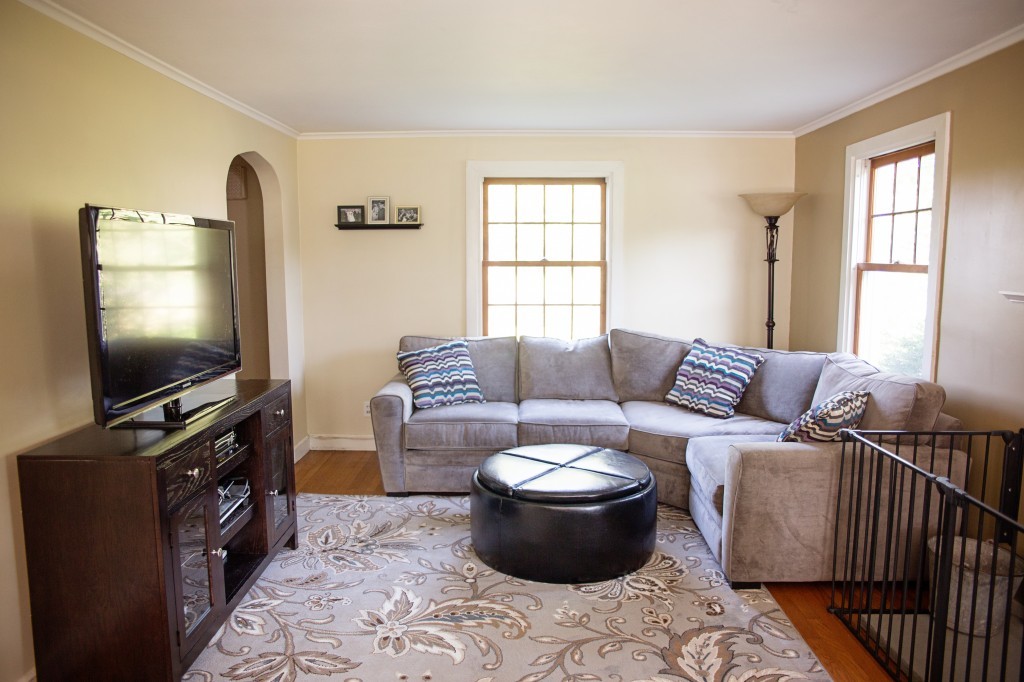 So that's it. Our brand new, functional and stylish living room.  Decorating a small space can be done- and done well- with some creativity!!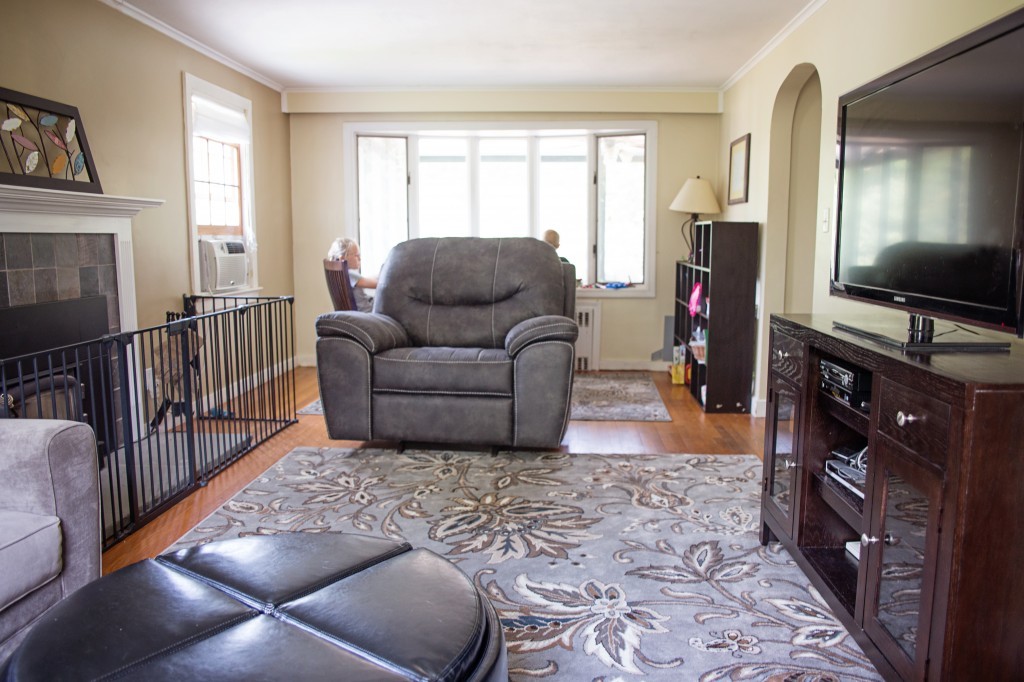 Check back in a few weeks- I'll be updating when our new window treatments arrive to complete the look. This whole room was furnished top to bottom for under $5000, and including the 5 year platinum protection plan and custom window treatments for 3 windows.  We did already have the storage cubes/shelves and one small lamp that we repurposed but everything else is brand new! I have to call this one a win by Raymour & Flanigan and a BIG score for the Martin family!