This post is sponsored by Disney Press.  Do you remember the first time you made a wish? It might have been at a birthday, after you blew out some birthday candles.  Maybe it was the first star you saw at night. Many of us have been making wishes in many forms for centuries- and the brand-new in fall 2015 Star Darlings series is all about the power of wishes. Wishes, and what it takes to go after them so you can reach them.  It's a series made for tween girls, and when I say series, I mean a book series, a web series, and a few other fun and darling things to enjoy. There are 12 Star-Charmed Darlings, chosen by the headmistress of Starling Academy, to fulfill the oracle of the Twelve Star-Charmed Starlings.
Disney Star Darlings
I'm all for anything that encourages kids to WANT to read.  Characters who work together and help others are a HUGE plus…add in cool costumes and fun hairstyles and you have a winning combination. Wouldn't it be nice if we could all make a wish and it came true?  For most of us, those wishes come true with hard work, determination, and support from those around us.  Just like the Star Darlings. There's a lot of positive messages and upbeat themes in these stories, and with catchy tunes, a little magic, and some great casting, I think even hesitant readers who see the show are going to want  to pick up the books.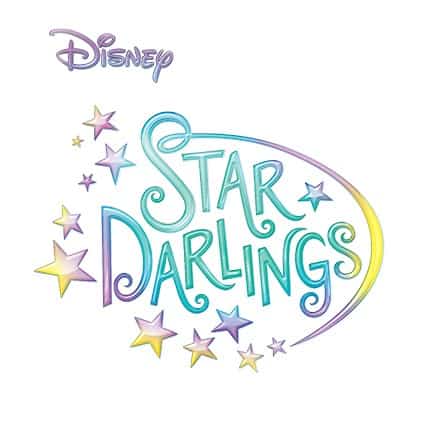 Just like real girls, each Star Darling has her own wish that she pursues with full force and determination—and the help of her friends. These shared journeys and experiences provide exceptionally positive examples to inspire tweens to follow their dreams, and are experienced through books, dolls, music and apparel, along with a mobile app and animated shorts. Disney "Star Darlings" offers an innovative and unparalleled lifestyle experience that encourages tweens to harness the power of their individuality, highlights the power of making positive choices, and shows that they can make anything possible.

Initially conceived by designer Shana Muldoon Zappa, and her husband, New York Times bestselling author Ahmet Zappa (Because I'm Your Dad), "Star Darlings" was inspired by their daughter. "Our intention with Star Darlings has always been to empower girls and let them know there is an unstoppable wish energy created by positive thinking, taking action, and believing in yourself," said Shana Muldoon Zappa.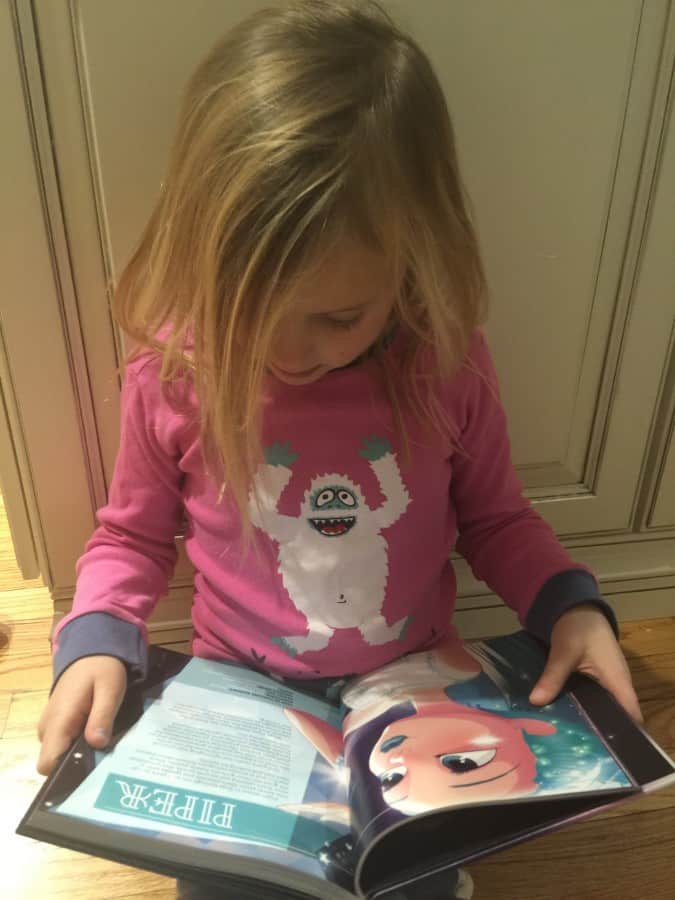 Star Darlings Book Series is available at Justice, Amazon, Barnes & Noble, Books-a-Million, Indiebound, Disney, Indigo and iBooks. Dolls and shirts are available at DisneyStore.com. 
Book 1: Sage and the Journey to Wishworld – Available Now
Book 2: Libby and the Class Election – Available Now
Book 3: Leona's Unlucky Mission – On Sale January 5th
Book 5: Scarlet Discovers True Strength – On Sale January 5th
Book 6: Vega and the Fashion Disaster – On Sale January 5th
A Wisher's Guide to Starland – On Sale January 5th
More books will be coming throughout the winter and spring of 2016!
I am going to disclose here that my girls haven't seen the Star Darlings show. We're big readers here, and given that both girls had seen commercials advertising these colorful tween Darlings, I decided we'd just start with the books.  We'll save the watching for a rainy day, and enjoy the books until then. Both are wishing (pun intended) for the dolls, especially their favorites!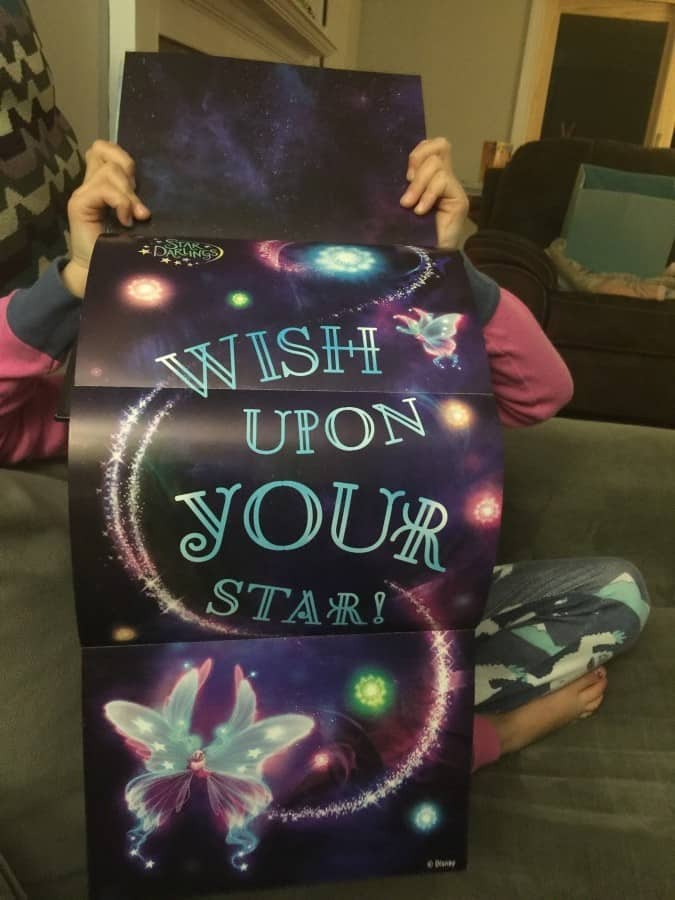 About the books and Star Darlings themselves, from my girls, ages 10 and 6
Sage is purple, and her wish is to become the best wish granter Starland has ever seen. She's also a rocking' guitarist who plays a purple guitar! She's totally my fave.
The books are great- lots of details and fun stories in the two I finished- plus, A Wisher's Guide to Starland tells you of the stuff you want to know about what Star Darlings are, who they are, where they live, and where they go to school. Each Star Darling has their own color and the authors put a border to match their color around all of their pages in the guide, so you don't forget who you are reading about. In the beginning section of the guide, there is a small section about each one of the star darlings, and it has name, bright day ( birthday), favorite color, interests, why they are chosen to be a Star Darling, their wish, what you have to watch out for, what year of school they are in, what their Star Darlings power crystal is, and what their wish pendant is. (M, too cool for photos, age 10 1/2)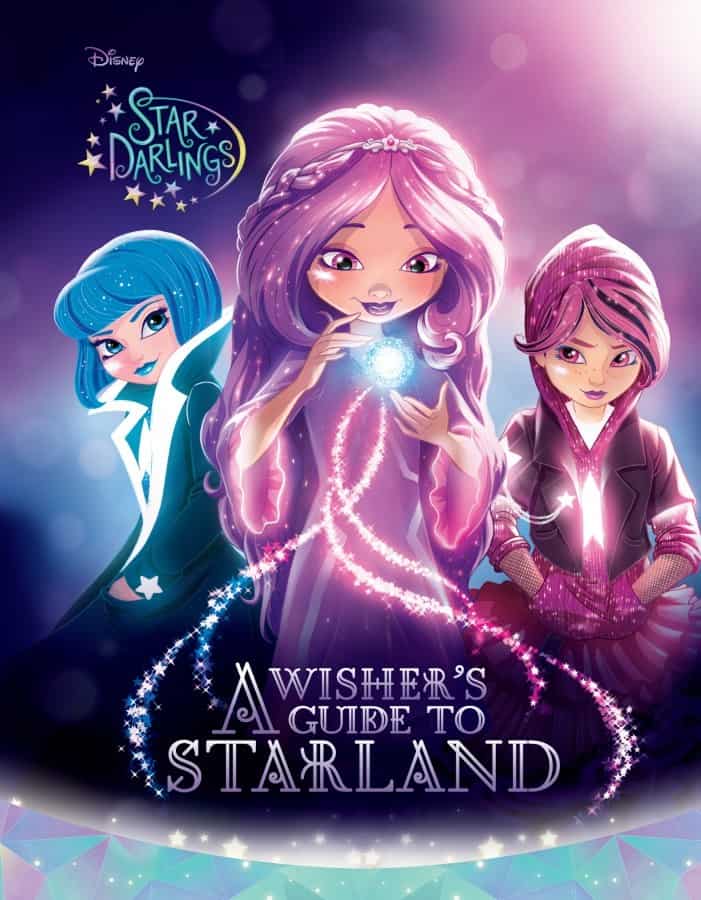 Piper and Tessa are the best Star Darlings because they are both blue or blue green colors and that's my favorite. Tessa likes blankets that are soft and helping in her family garden just like me. Tessa really loves animals and cooking too.  Piper loves to write and she wants to be the best person she can possibly be. I haven't read the story books yet because I'm still reading the wishing guide book but I think there will be a lot of stories about Piper and Tessa helping their friends and finding more wishes. (R, age 6).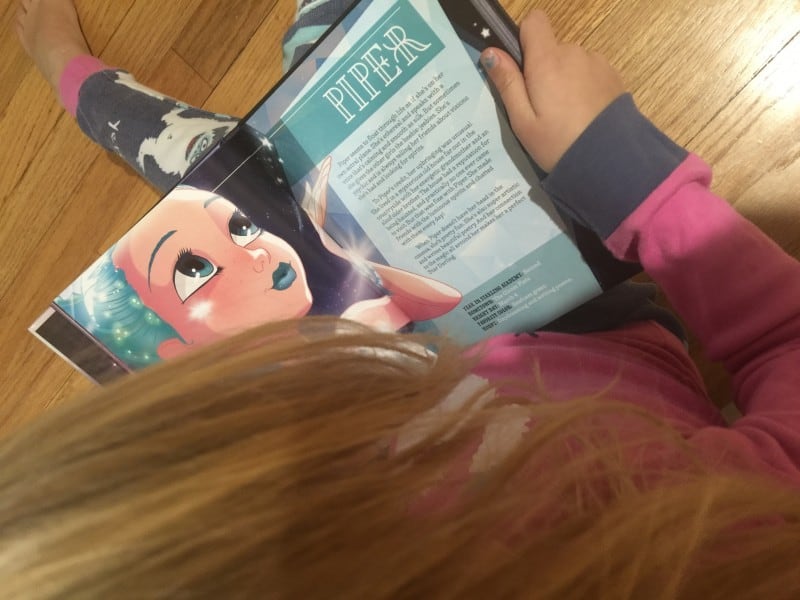 What are your family's wishes for 2016? If you could grant a wish to anyone, who would it be for and what would it be? Our family wishes for 2016 are pretty simple.  We wish for more family game nights, another vacation getaway, and lots of time riding bikes and swimming in the warmer months. For others, we wish them peace, and comfort.
GIVEAWAY DETAILS
Enter to win a #StarDarlings prize pack! One (1) winner will receive:
·         A Wisher's Guide to Starland
·         Sage and the Journey to Wishworld
·         Libby and the Class Election
·         Leona's Unlucky Mission
·         Scarlet Discovers True Strength
·         Vega and the Fashion Disaster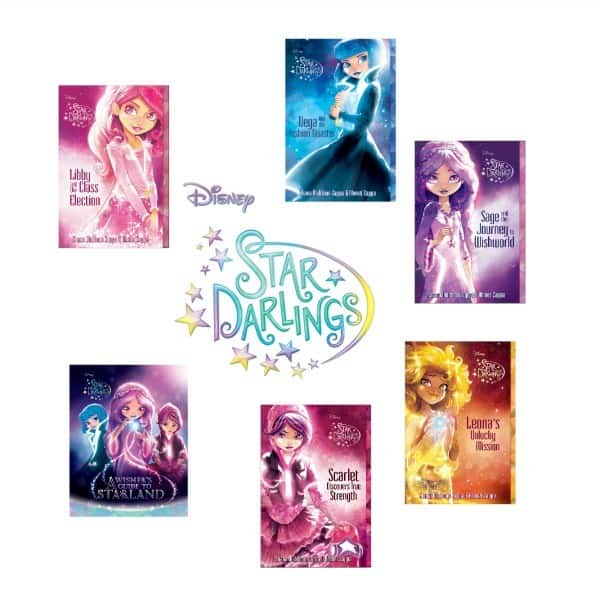 Giveaway open to US addresses only.
Prizing and samples provided by Disney Press.