Best Cruises for Kids & Families
We have officially been bit by the cruising bug in our house. After some AMAZING experiences aboard the Carnival Magic last summer What kids love about a cruise on Carnival Magic, Best Family Excursion in Costa Maya, and Western Carribbean Cruisel)and with Princess Cruises (5 things first time cruisers should know,  Double Chocolate Tiramisu Recipe, and one more) few years ago, we're anxious to get on the water again! Check out our 5 Tips for Cruising with Kids.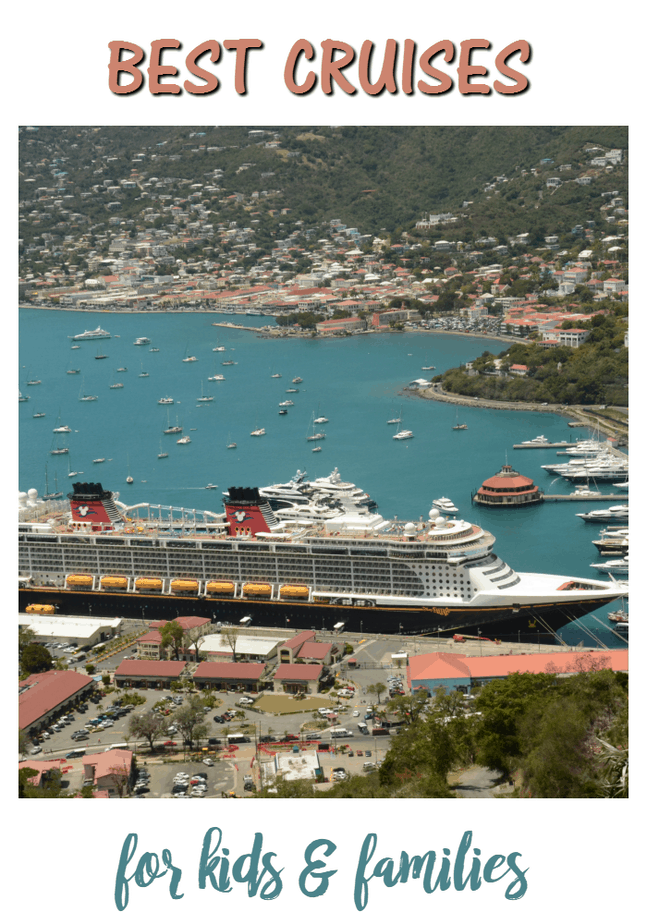 For many families, cruises may be synonymous with gambling, alcoholic beverages, and dancing. That's simply not the case! A cruise is a perfect family vacation, and there are so many options to choose from when booking your perfect cruise. We've narrowed down the best cruises for kids and families. Check these out when planning your next vacation!
Disney is a name that is always mentioned when it comes to family fun! It should be no surprise that a Disney Cruise is a perfect choice for families with children. Kids will enjoy entertainment in musical performances or Disney films aboard the boat. Some are even early releases! Pools are also at a premium where kids can take a dip with a character-themed swim. Kid-friendly food is available in the restaurants, but adults can also enjoy gourmet deliciousness, making it family-friendly for young and young at heart! Your prince and princesses can even be transformed into royalty in the Bibbidi Bobbidi Boutique on the Disney Dream, Disney Magic, Disney Wonder, and Disney Fantasy ships.
Royal Caribbean has licenses with Dreamworks, so your children's experience will be enhanced by the likes of Shrek, the crew from Madagascar, Kung Fu Panda, and more (on select ships). My Family Dining is a benefit that provides early eating for kids ages 4-11 before enjoying their own kid activities with trained staff for the evening. With this added benefit, you can enjoy time on your own with your spouse while the kids are in safe hands! Royal Caribbean cruises are known for their adventurous activities like rock-climbing, zip-lines, ice-skating, surf simulators, and more! This cruise line has family fun written all over it!
What's better than free? When you book a cruise on select ships, your third and fourth guests staying in your stateroom are free! This is perfect for families. NCL offers a variety of youth programs aboard. Drop off nursery and activities are available for the "Guppies" six months to three years. Splash Academy has theme nights, creative play, and sports for the three to 12 age group. Entourage lets teens through age 17 enjoy dancing, music, video games, and arts with their peers. Finally, late night port sitting for ages 3-12 allow you and your sweetheart to explore the port stop while the kids are supervised on ship.
Carnival Cruise Line has kids on the brain. Their Seuss at Sea program will delight kids of all ages- including kids at heart. You can dine with the Cat in the Hat and friends for a Green Eggs and Ham breakfast, enjoy a story time with Seussical friends, and more. Kid friendly activities include youth programs for kids 0-17, WaterWorks water park, game shows, SportSquare, IMAX movies and more. Some ships have SkyCourse (ropes course) and SkyRide (ride a bike above the deck of the ship!) to enjoy as well! There are nightly Dive-in movies with popcorn and if you're chilled, grab a snuggly throw to cuddle up in as you enjoy a family movie with the kids under the stars. Choosing an early dining time is a great option for dinner meals with kids in tow- or the kids can head up to Camp Carnival, Circle C, or Club O2 while you have some grownup time.
I found a great resource (free for Kindle users) about cruising with kids.
Cruising comes with a cruise card, which serves on most ships as your currency, room key, and what you need to get both on and off of your ship at ports.  These are quite easy to lose when you're wearing swim suits and summer clothing, and most folks simply get a lanyard and pouch to hold the card for ease of use and access.  These lanyards are quite expensive on board your ship and it's definitely one of the things I suggest you order ahead of time- you'll get a lanyard for your whole family for the same or less than one costs on board your ship. This helps you keep your- and the kids' – cards readily accessible at all times. Lanyards for Cruise Ship Cards
Why not book a cruise for your family? From kid-friendly themes, good eats, and supervised activities, these cruise lines are the best cruises for kids and families! Enjoy your trip!