I love tacos. I really do.  We always seem to have the SAME taco nights at our house. I know, if it's not broken, why fix it, but … I'm trying to broaden our culinary horizons. Or at least keep me from boredom with our meal plans. SO…here's a fun and totally different taco recipe from the norm, and it's got a little sweet with a little kick to please everyone in the family. Sweet potato tacos offer a whole lot of extra nutrients and twist on everyday taco flavors- and my family loves having fun colors in our meals.
Sometimes, for a fun twist but still with taco flavors, we'll do a taco pasta salad recipe, and for super busy nights (like tonight) when we've got practices and meets one after another, I'll do something that's kind of like a taco on the go so the kids can eat in the car if need be.
Maple Glazed Chicken and Sweet Potato Tacos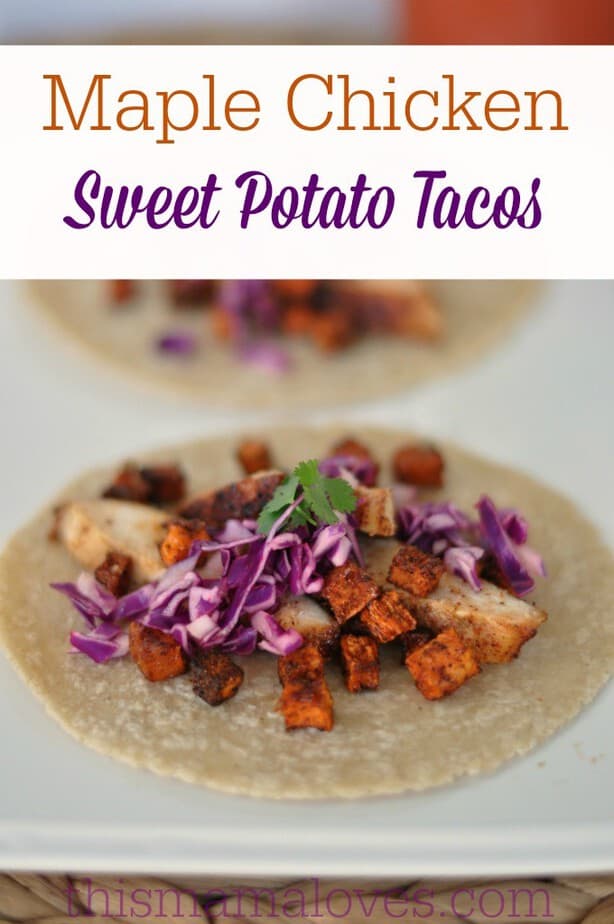 Ingredients:
3 6oz boneless, skinless chicken breasts
¾ cup pure maple syrup
2 sweet potatoes, peeled and cut into 1-inch dice
3 tsp cumin
2 tsp chili powder
soft taco sized tortillas- you can do your tacos in lettuce, if you want to skip the tortillas. I've been doing that more and more frequently just to cut back on the carbs and
Salad
1 cup shredded red cabbage
2 Tbsp lime juice
2 tsp sugar
½ Tbsp avocado or grapeseed oil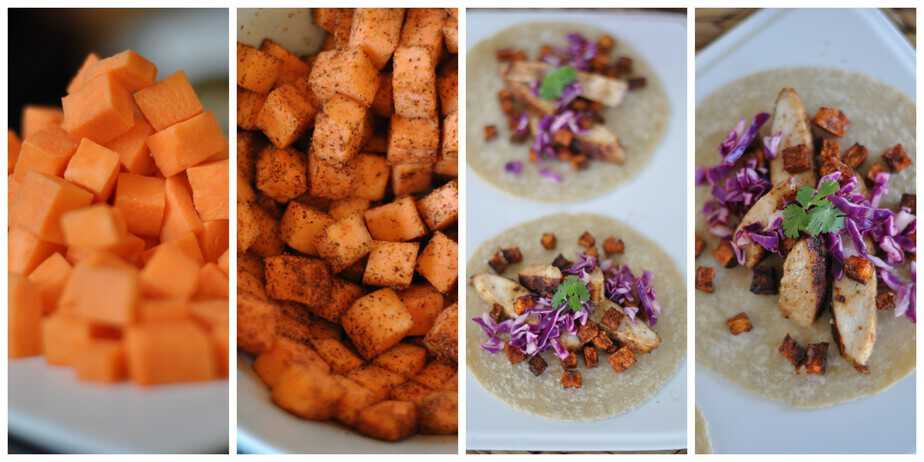 Directions:
1) Preheat oven to 375 degrees.  Line a large rimmed baking sheet with nonstick foil.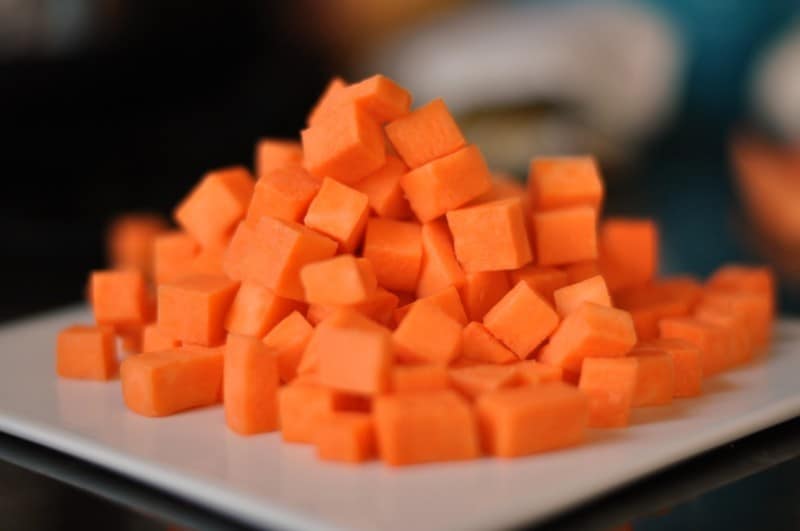 2) In a small bowl, mix sweet potatoes with 1 tsp cumin and  ½ tsp chili powder.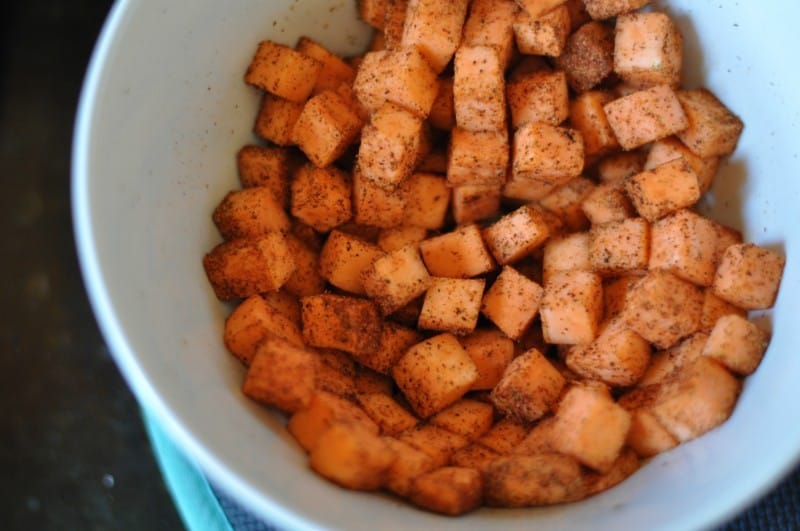 Season chicken breast with remaining cumin and chili powder.   Add chicken and sweet potatoes to baking sheet. Pour maple syrup on top.
3) Cover baking sheet with foil and cook for 20 minutes.  Remove foil and cook for an additional 10-15 minutes or until chicken is cooked through.
4)  In a medium bowl, combine salad ingredients and toss to combine.
5) Slice chicken.  Spoon chicken and sweet potatoes onto tortillas and top with salad.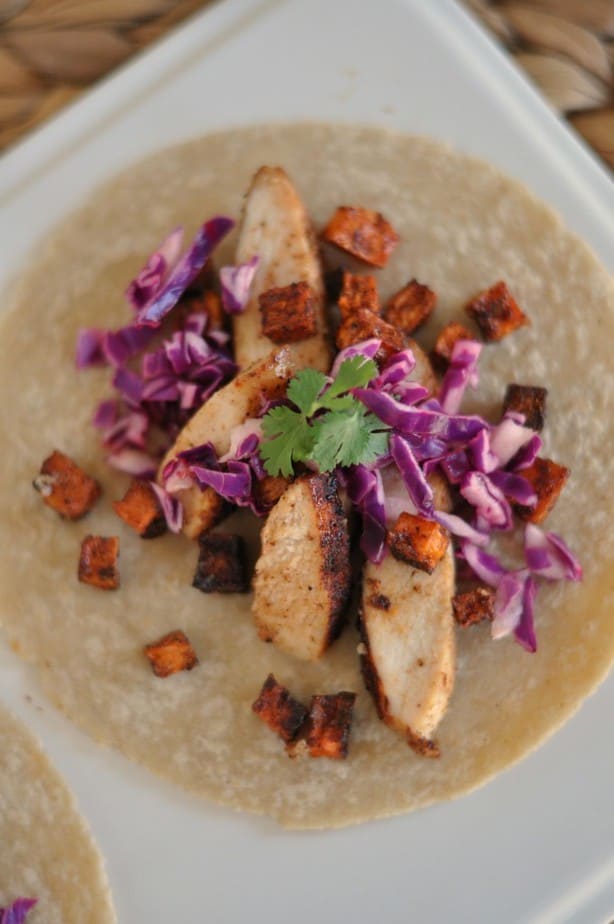 If you love sweet potato but aren't feeling the taco love, it's cool. I get it. Maybe you want some sweet potato Burritos– which is also a great way to make a meatless meal…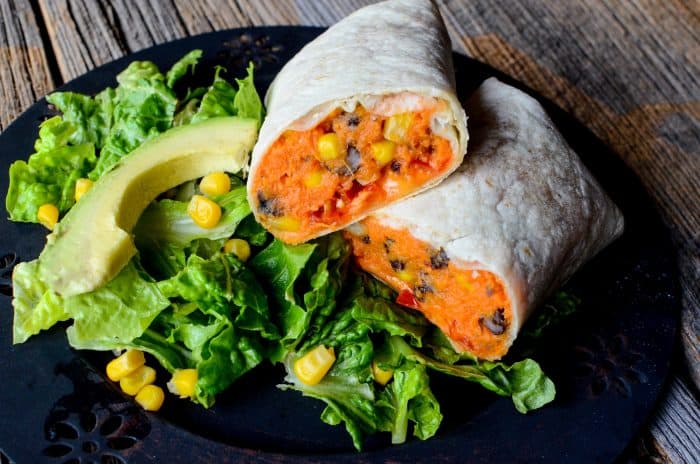 or Southwestern Shepherd's Pie recipe- once you start switching up family favorites with sweet potato, you may never go back!
How does your family enjoy tacos? Have you ever tried making sweet potato tacos?
[mpprecipe-recipe:142]