I love a great French dip sandwich. There is just something about a warm toasty grinder roll full of tender beef that melts in your mouth. However, nothing ruins a French dipped faster than over cooked, dry beef. The great news is that with the Instant Pot you can cook your beef to perfection! Yes, that's right, my friends, we're showing MORE LOVE for the amazing Instant Pot today. If you don't have one yet, WHY?
We kept the recipe simple, but made sure it was still full of flavor. We let the beef stock and the Instant Pot do most of the work in making the meat fall apart while staying juicy. The meat was seared inside the Instant Pot and then cooked on high pressure for 90 minutes. The Instant Pot took about 15 minutes to come to pressure and another 15 minutes for the pressure to release naturally.
Overall the meat was done in two hours, but the meat literally fell apart when poked with tongs. To make the sandwich even more delicious we toasted our rolls and made them into garlic bread. We devoured these sandwiches, and when everything was cleaned up I was sorely disappointed that there were no leftovers for lunch the next day.
We will definitely be making this recipe again, but next time I'm making enough for leftovers.
Can't wait for more Instant Pot recipes? Instant Pot Corned Beef and Cabbage, Instant Pot Banana Bread Recipe, Instant Pot Squash, Instant Pot Cheesecake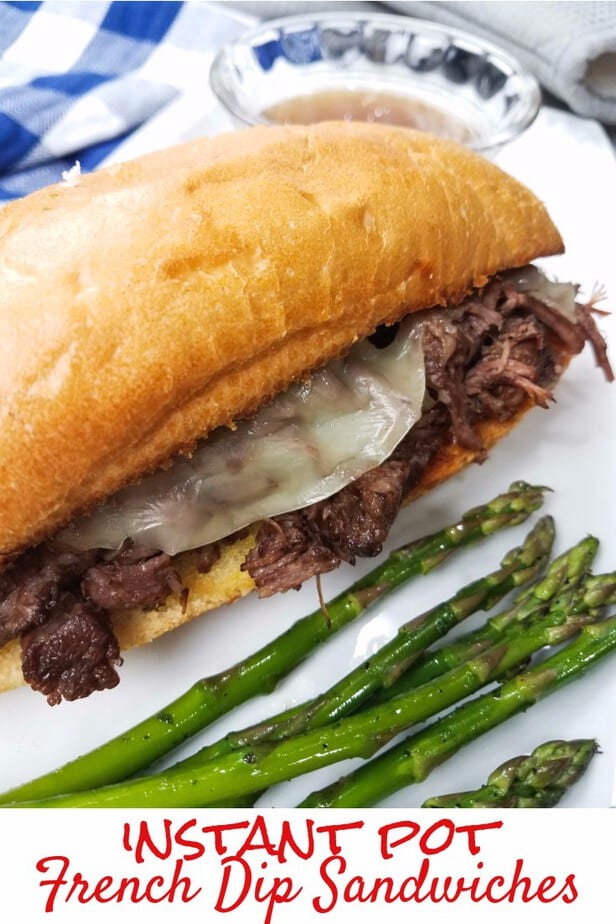 Instant Pot French Dip Sandwiches
Ingredients:
2.5 – 3 lbs. Beef chuck roast
1 tbsp. vegetable oil
2 tsp. salt
1 tsp. pepper
1 tbsp. minced garlic
1 onion sliced
1/2 cup non-alcoholic red cooking wine
1 tbsp. Worcestershire sauce
2 cups beef stock
2 bay leaves
Provolone cheese slices
Grinder/Sub/Hoagie rolls sliced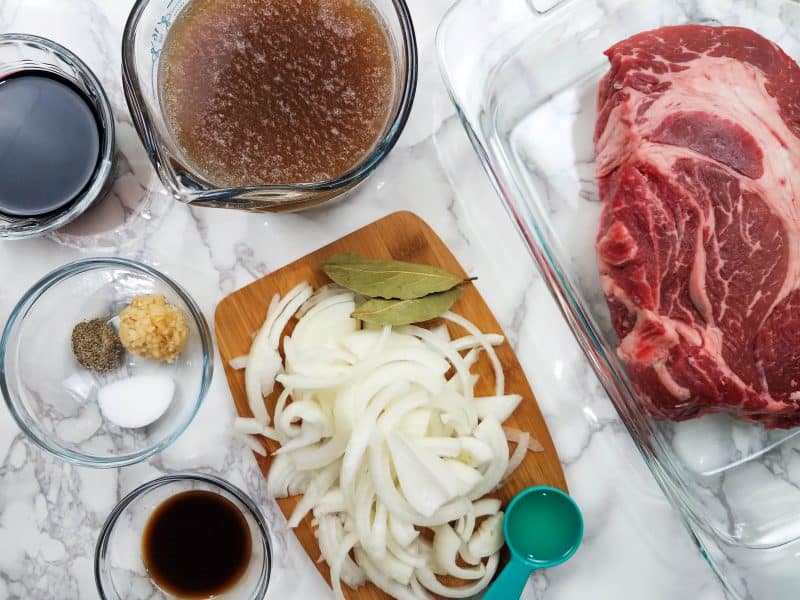 Directions:
Set your Instant Pot to saute, then press the adjust button to set it to high. Pour in the vegetable oil and season the roast with salt, pepper, and garlic.
When the display reads *hot* add the roast to sear on each side. When the roast is seared set it aside.
Add the onions to the Instant Pot and saute them for 2-3 minutes until they soften.
Pour the wine over the onions and let it simmer for about 5 minutes. Add the worcestershire sauce, beef sauce, and bay leaves.
Return the roast back to the Instant Pot. Lock the lid into place and turn the pressure valve to sealing. Cook the roast on the Meat and Stew setting for 90 minutes. Let the pressure release naturally.
Remove the roast from the Instant Pot to shred and strain the juice to use as au jus.
Toast the grinder rolls and top with the shredded beef and provolone cheese. Place the sandwiches in the broiler to melt the cheese. Serve with au jus on the side.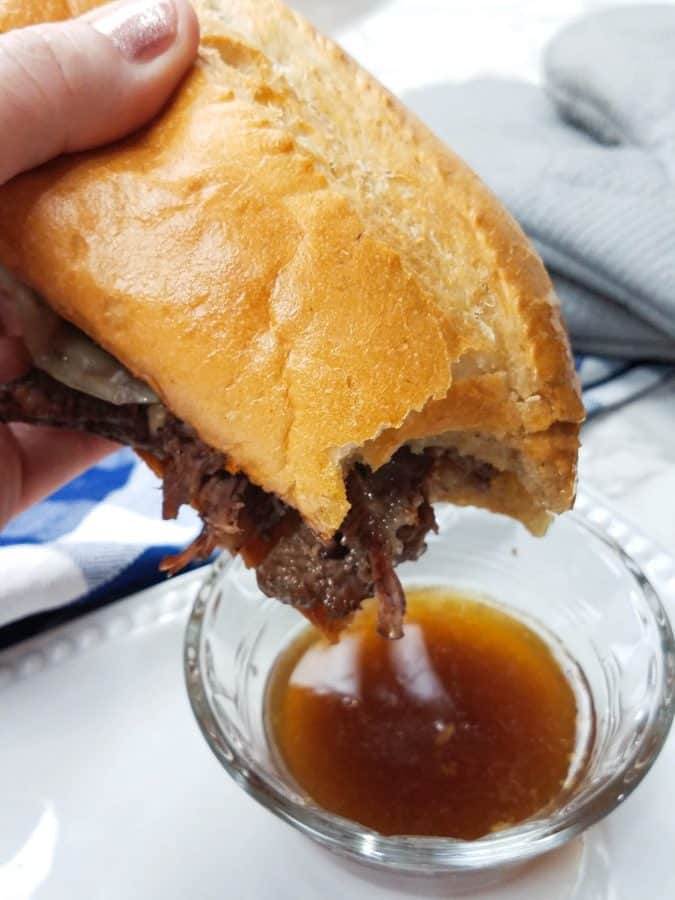 Serves 4-6 depending how much meat you put on each sandwich
[mpprecipe-recipe:2253]